Police Union Boss Is Really Mad That Eric Garner's Family Is Getting Paid $5.9 Million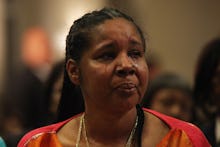 If a member of your family was choked to death by a New York City police officer, how much money would it take to compensate for your pain?
It's a difficult number to calculate, but according to Sergeants Benevolent Association president Ed Mullins, $5.9 million is probably way more than you deserve.
That's how much the city has agreed to pay the family of Eric Garner to avoid a wrongful death lawsuit in connection to his killing. On July 17, 2014, Garner died when NYPD Officer Daniel Pantaleo placed him in a chokehold and refused to relent, even as the 43-year-old gasped, repeatedly, "I can't breathe."
The police were trying to arrest Garner for the alleged crime of selling untaxed cigarettes. But enough about Garner — what about the real victims: New York City's taxpayers?
"Where is the justice for New York taxpayers?" Mullins wrote in a New York Post op-ed on Tuesday. "Where is the consistency in the civil system?"
And why should we, the aforementioned taxpayers, reward the relatives of this shameless — albeit gruesomely murdered — lawbreaker?
"Mr. Garner's family should not be rewarded simply because he repeatedly chose to break the law and resist arrest."
The $5.9 million Garner settlement, Mullins added, is both "obscene" and "shameful" — kind of like that time, he wrote, when the city paid $41 million to the five black and Hispanic teenagers it locked up for a rape they didn't commit, in 1989. The Central Park Five, as these victims became known, spent more than 38 years in jail combined. 
They just got their settlements last year.
The New York Post also called the Garner payout "record-breaking." This ignores the $11.5 million settlement New York City paid to Google engineer Sasha Blair-Goldensohn in 2009, after a tree branch fell on him in Central Park and paralyzed him, according to Vocativ. The Post called Blair-Goldensohn "brilliant" at the time. 
Vocativ adds that payouts like these are determined by a combination of emotional distress caused by the death, deterrence of future wrongful conduct by the perpetrator and "what the victim would have earned over his lifetime" — the latter of which has the troubling effect of tying a person's "worth" to how much money they make.
Garner is survived by his wife, six children and three grandchildren. His death was ruled a homicide, and the subsequent refusal of District Attorney Daniel Donovan to prosecute Garner's killer has fueled a year of nationwide protests against police killings of unarmed black men.
The killer, Officer Daniel Pantaleo, is currently seeking employment. He'd really like to be a police officer again.