President Obama on Bill Cosby Sex Allegations: "That's Rape"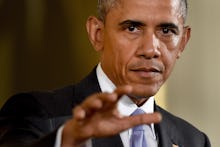 President Barack Obama's Wednesday afternoon press conference to discuss the Iran nuclear deal took an unexpected turn when the president fielded a question about the rape allegations against comedian Bill Cosby.
When asked by a reporter whether Cosby's Presidential Medal of Freedom, which he was awarded in 2002, should be revoked in light of the recent egregious accusations against him, the president said giving someone drugs and then having sex with them constitutes "rape" — but that there was no precedent for taking the medal away.
"If you give a woman — or a man for that matter — a drug and have sex with that person, that's rape," the president said. "And I think this country, any civilized country, should have no tolerance for rape."
Dozens of women have come forward to accuse Cosby of sexual assault since last fall, and allegations against the actor span decades. The women give similar accounts about the entertainer slipping drugs into their drinks before raping them. The alleged rapes took place beginning in the 1960s. 
The push for Obama to revoke Cosby's commendation surfaced recently, when the Associated Press reported on court documents showing that the comedian had admitted to obtaining sedatives to give to "women he wanted to have sex with." Cosby has not been charged with rape and has denied the allegations.