This Androgynous Model Is Shattering Gender Norms — but Also Revealing Fashion's Limits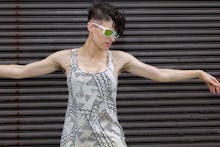 "He's so beautiful." 
That's the sentence designer Loris Diran kept hearing his guests remark as they came backstage Wednesday night to compliment one of his models, Rain Dove.
Diran smiled and said, "You mean 'she.'" His guests laughed at what they presumed was a joke, Diran told Mic. But then Dove unbuttoned her shirt to show off the chest binder she had on underneath. The model they'd seen walking down the runway at Diran's fall 2015 show was a woman.
Dove has a strong jawline, cropped hair and broad shoulders, and she stands at a statuesque 6 feet, 2 inches. In her button-up shirt, the busty model blended seamlessly with the male models last week at New York's inaugural men's fashion week. She wasn't trying to trick anyone, however — her name was listed as "Ms. Rain Dove" in Diran's show notes.
"It was very important to me that I didn't use her as some freaky novelty, because I find that offensive," Diran told Mic. "I wanted to use her [and] not really have a dialogue about it. I wanted to use someone who happened to be a woman who wore men's clothes extremely well."
That enlightened take on gender reflects a fluidity that's come increasingly into vogue in the fashion world, in what looks like major progress. But Diran's concern that Dove would be a "freaky novelty" points to a darker reality — that progress might be no more than good business. Fashion isn't immune just yet to society's limiting gender norms.
The hot new "trend" of blurring gender lines: Fashion has long been at the forefront for challenging gender norms (just consider Yves Saint Laurent's tuxedos for women in the 1970s and his own sexy long hair). But 2015 has seen designers make concerted efforts to deconstruct gender boundaries, particularly when it comes to letting the feminine seep into menswear.
Clothes have taken a turn toward a gender-fluid design, with Hood by Air, Saint Laurent and other designers putting male models in loose dresses, tunics, florals and even corsets on the runway last month. Recognizing a shifting attitude in shoppers, major U.K. retailer Selfridges debuted a pop-up section called Agender devoted to unisex clothing.
The lines are also blurred with the casting of transgender or simply androgynous models. Last week, Maison Martin Margiela's John Galliano chose androgynous men to present his couture collection, clothing that's historically exemplified femininity. Brands like Givenchy have mixed men and women's clothes, modeled by both genders, onto a single runway. Models like Hari Nef and Andreja Pejic, who are transgender, have landed groundbreaking contracts with top agencies and major companies; and "androgynous" female models like Casey Legler and Elliott Sailors have made careers out of modeling men's clothing.
Dove is another one of those androgynous models making headway.
All that progress might just be good business: Switching up gender expectations or jettisoning them altogether seems downright trendy, with fashion leading the way for society at large. But that trendiness bespeaks a more cynical perspective. Fashion is a business, and industry insiders strategize in terms of dollars. 
The much-heralded inaugural New York Fashion Week: Men's, after all, was introduced this year to capitalize the now $440 billion global menswear market, according to Quartz. As for the gender-fluid runways, retail experts told Business of Fashion they were likely a savvy marketing move.
"I would like to talk about social topics and gender, but in reality it's a mere question of marketing. Merchants and producers need to sell first — those who sell first, sell twice as much," Andrea Panconesi, founder and chief executive of Luisa Via Roma, told Business of Fashion. "By showing women's clothes with the men's collection, it is possible to anticipate production and sales as early as July, rather than September when the official women's collections are shown."
Then there are the headlines that come from using trans models or edgy "gender-bending" clothes. Dove has been the subject of such media fawning, with headlines like "13 Reasons Rain Dove Is the Androgynous Model Of Your Dreams."
Models like Dove are pushing for real change: Dove is aware of the industry's more cynical motives. Talking to Mic, she recalled being cut from a show last minute after the designer got wind that a competing designer was putting women in his menswear show. Dove, it seems, was no longer such a draw.
She's also acutely aware of the boundaries her very presence pushes, often leading to mistaken assumptions. In a suit, she often passes for a man, she said; in a dress, she's often mistaken for a transgender woman. That can be dangerous territory: She's gotten hit and pushed while wearing a dress, she said, and has had the kind of traumatic bathroom experiences transgender people often face.
But she's unapologetic about her appearance and relishes any opportunity to educate.
"I love the confrontation. I love the educational process," she told Mic when visiting the office this week. "I love flashing people with my tits."
"I'm 6-2 and I have muscles and I'm not sorry for it. If you want to talk about my biology, I'm female," she added. "As a human, I should be able to wear what I want to wear." 
Ironically, she's found more freedom to do so within the menswear world, where she's welcomed. What's seemingly more "dangerous," she said, is for a woman with her features to be considered "sexy" in the womenswear world. While she's often labeled "androgynous" (a favorite word of the fashion world), she doesn't fit the slight, waifish image we often associate with the word. Certain types of "gender-bending," it seems, are more appealing to the fashion industry than others. 
"I am not sure if the goal of these mainstream brands is to truly support and embody society's changing views on gender expression, or if these brands are trying to simply cash in on a trend, or both," Anita Dolce Vita, the creative director and editor-in-chief of dapperQ, told Mic via email. 
"But, I do hope that the fashion industry continues to move in the direction of abandoning ridged binary expectations and doesn't write off this greater freedom of expression as a trend when the next big thing comes along."
For her part, Dove is making a boldfaced effort to get the industry to a place where "androgynous" isn't a selling point and gender lines fall away in significance.
Dove "does a great job at representing for fashion lovers who don't necessarily fit what society deems as normal," model Cory Wade Hindorff, a friend of Dove's, told Mic via email. "Her work will help us to break free from the restrictions we place on what we allow ourselves to wear in co-ordinance with our 'gender roles.'"
Sailors echoed the sentiment. Dove's "commitment and enthusiasm in not only blurring gender lines, but abolishing them, can hardly be ignored," she said via email.
"I'm walking into a world where half the people will be afraid or what I am and who I am. But, I really wish they'd get out of my way," said Dove. "Because I'm going to make the world a better place."