Ronda Rousey Just Perfectly Destroyed Floyd Mayweather for His Domestic Violence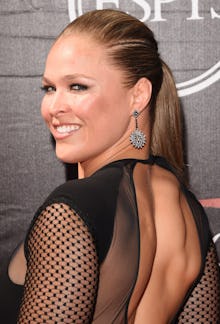 The fact that UFC champion Ronda Rousey was awarded best fighter over noted male champions like boxer Floyd Mayweather and MMA fighter Donald Cerrone would have been a significant feminist victory in and of itself. But Rousey took advantage of the moment when she called out Mayweather for his misogynistic history with domestic violence upon picking up her award Wednesday evening during the ESPYs pre-show on ESPN.
When accepting the award, Rousey wondered how Mayweather felt about getting "beat by a woman for once." She also referenced an interview in which Mayweather claimed not to know who she was.
"I'd like to see you pretend not to know who I am now," she said, referring to an interview with reporters this week where Mayweather claimed not to know Rousey. Rousey, however, has been vocal about Mayweather's history with domestic abuse. 
She packs a punch: Rousey could have easily basked in the personal glory of her win, but her choice to remind the public of Mayweather's egregious actions — including seven reported assaults of five women over the span of over 12 years, according to Deadspin — is remarkable. While Mayweather may not have remembered her name, it's one viewers of the ESPYs won't, and shouldn't, soon forget.