Michael Sam Has Had a Truly Terrible Year Since Winning the Arthur Ashe Award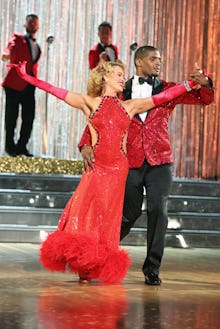 It's been a year since Michael Sam, riding high from getting drafted by the St. Louis Rams, accepted the Arthur Ashe Courage Award at the ESPYs. Like this year's recipient Caitlyn Jenner, Sam won after making history — not just by being drafted into the NFL as a gay man, but by doing so as a proud, openly gay man.
Since then, he's had a truly terrible, disappointing year.
First, the Rams dropped him before the season even began. Next, he joined the Dallas Cowboys' practice squad, only to be cut a month later. Now, he's signed to play football in Canada, after a stint on reality TV. What happened to the once-promising star? And is there any hope for a comeback?
Truthfully, it was always going to be an uphill battle for Sam. The picture of him kissing his boyfriend after he was drafted was a beautiful one, but an unstable one. The sports world is growing more and more accepting of gay male athletes like Sam, soccer's Robbie Rogers and basketball's Jason Collins. Yet they are still by far the few, and only Rogers is currently signed to a major professional team.
Sam's own choices didn't do him any favors. Before even playing for the Rams, he signed up for a show with Oprah Winfrey's network — a project both parties wisely backed away from when the media reaction was almost universally negative.
That wasn't his last foray into the world of reality TV, though. After getting cut from the Cowboys, he joined Dancing With the Stars, which seemed like a fatal move for his career at the time. Turns out, that instinct was probably right.
For an athlete well into their career, there's no shame in doing Dancing With the Stars. Former Cowboys player Emmitt Smith, former Steeler Hines Ward, and Olympians Apolo Anton Ohno, Kristi Yamaguchi, Meryl Davis and Shawn Johnson all won the show, and countless other athletes have competed. 
The difference is they made their names on the field. Sam, despite success at the University of Missouri and being named SEC co-defensive player of the year in 2013, hadn't even properly started his career. It pigeonholed him as what everyone feared he would be: more notorious in the entertainment world than a force in the sports world.
Luckily, Sam got another chance to play: with the Montreal Alouettes in the Canadian Football League. It's not the gig of dreams, but it's the opportunity to do what he's dreamed of doing. Unfortunately, not even that worked out for Sam, as he generated bad press for stealing the spotlight from other players, then took a leave for "personal reasons," (reportedly it was due to a breakup with his fiancé.)
It was always going to be an uphill battle for Michael Sam.
This is the Michael Sam Curse: Every time he starts to get a bit of traction, something stops him. Be it an NFL team cutting him, choosing to go on reality TV or personal life getting in the way, Sam hasn't been able to make his career happen. 
He's no less deserving of his Arthur Ashe award a year later, of course. His choice to come out before the NFL draft remains an incredibly brave decision. He chose to be himself despite intense societal pressure, much as this year's honoree, Jenner, came out as trans despite how difficult it would be. That courage is exactly what their award is about. It's unfortunate, however, that his year since hasn't been as inspiring.
Sam remains a role model for closeted athletes everywhere. It's just harder for them to see him as one.