13 Most Yaaaasss Tweets After Caitlyn Jenner's ESPYs Speech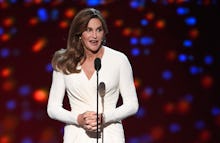 Former Olympic athlete turned reality star Caitlyn Jenner delivered a passionate speech during her acceptance of the Arthur Ashe Courage Award during Wednesday night's ESPYs. It was Jenner's first official appearance since her debut on the cover of Vanity Fair exploded the Internet. 
In the speech, Jenner spoke about her own challenges, but also broadly drew attention to the problems transgender people around the country and world still face.
"The real truth is before a few months ago, I had never met anybody else who was trans. I had never met a trans person, ever. I dealt with my situation on my own. That turned this journey into an incredible education. It's been eye-opening, inspiring. All across this country, there are young people coming to terms with being transgender. They're learning that they're different and they're trying to figure out how to deal with that. They're getting bullied, they're getting beaten up, they're getting murdered, they're committing suicide."
Long after the official broadcast ended, the speech was still reverberating, with Jenner receiving a resounding YAASSS online from tweet to shining tweet.
Jenner's speech also focused on the importance of education, and she highlighted her own unique responsibility as a public figure. "If there's one thing I do know about my life, it's the power of the spotlight," she said. "How you conduct your lives. What you say, what you do, is absorbed and observed by millions of people, especially young people."
She ended her remarks with a call for acceptance, reminding the audience there is strength in numbers. "For the people out there wondering what this is all about. It's about what happens from here," she said. "It's not just about one person. It's about thousands of people. It's about all of us accepting one another."
Jenner's award marks the third year in a row a member of the LGBT community has walked away with the courage award. Last year, the honor went to newly out football player Michael Sam, while in 2013 it was Good Morning America host Robin Roberts.