These College Students Are Dishing Out the Sex Talk Nobody Else Will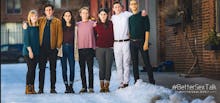 Wouldn't it be nice to go back and warn your younger self about the things you wish you knew about sex? This sort of time travel could be really helpful, since many young Americans don't learn the good things and not-so-good things about of sex until it's too late. 
In fact 74% of us have sex by age 20, according to a study by the American Academy of Pediatrics. Yet only 22 states and the District of Columbia require comprehensive sex education — programs that still often don't include sex-related concepts extending beyond the act itself. It's a problem that New York University student Josy Jablons is tackling in a photo campaign featuring college students sharing honest advice about sex they wish they'd known in high school, called #BetterSexTalk. 
"I entered college with no understanding of sexual coercion, with no ability to recognize an unsafe relationship," Jablons of Students for Sexual Respect at NYU told the Huffington Post on Tuesday. "I entered college with no grasp of affirmative consent, and I blame my sex education for that." 
Jablons said she wants #BetterSexTalk to address the inadequate sexual education that she — and so many other high school students across the country — have experienced. Teens are more likely to receive information about sex from their friends and media instead of parents, which is why this largely peer-driven, media-based campaign might be successful in educating teens about the abstract components of sex and sexuality that more mechanical sex ed programs often forgo, like respect for oneself and one's partner, control, pleasure and consent.
If growing anti-sexual assault movements on campuses across the country are any indication, the need for this conversation is dire. Though consent is a key component of healthy and safe sex, it's often not part of high school sex ed curricula. A recent study demonstrated the effects, finding that 1 in 3 college men "endorse" rape — admitting they would have "forced" intercourse with someone — but failed to consider this absence of consent to be rape or to hypothetically consider themselves rapists for committing it.
"How can we start preventing these things before college? How can we create an entire culture around consent? They're lofty goals, I know," she told ThinkProgress. "But I do hope that we can engage students from all over the country."
h/t ThinkProgress