'Game of Thrones'' Hodor Drops First Original Dance Tracks, and They're Pretty Damn Good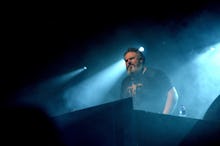 Long before becoming Game of Thrones' bighearted giant, Hodor, Kristian Nairn was a successful Irish DJ and EDM producer. While Hodor and his ward, Bran, have taken a little holiday from the HBO series, Nairn has remained plenty busy working on his music.
Earlier this month, Nairn released his first original track, "Up (Club Mix)," featuring Leanne Robinson, and on Wednesday, he released its B-side, "Beacon." Not a shabby or simple-minded debut at all.
Source: SoundCloud
A debut long in the making. Nairn is no newcomer to the EDM scene. He's been DJing for 20 years, and he also plays guitar and sings. For 11 years, he's held down a residency at the Kremlin, a famed Irish club. He's performed alongside the Scissor Sisters, Calvin Harris and Alphabeat. His role on Game of Thrones has only increased his visibility, and Nairn has been relishing every bit of it. 
Nairn recently wrapped up a three-month Rave of Thrones tour, apparently a wild, cosplay-heavy affair. Wired described Nairn's set as "progressive house," with a few dialogue samples of his character and one chiptune variation of the Game of Thrones title theme mixed in, "but mostly he's just lost in the trance of a continually pulsating rhythm."
Source: SoundCloud
Nairn is not the only actor from Game of Thrones with a music career. Grey Worm puts out indie R&B under the name Raleigh Ritchie; Ramsay Bolton sings acoustic folk as Iwan Rheon; Hodor's northern partner Osha sings in the Gypsy dubstep group Molotov Jukebox; and Bronn was in the '90s British pop group Robson & Jerome.
A man wonders whether or not their onscreen chemistry would carry over into their music. A mixtape of Hodor house remixes of "Rains of Castamere" and "The Bear and the Maiden Fair" would be far more enjoyable than the terrible hip-hop mixtapes HBO has been peddling the last two seasons.
.