Here's Why Google Is Honoring Ida B. Wells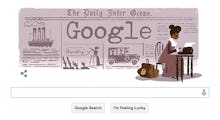 If you've visited the Google homepage Thursday, you've noticed there's a little historic woman ferociously typing away on her old-school typewriter above the search bar.
Her name is Ida Bell Wells-Barnett, or Ida B. Wells for short, and Thursday is her 153rd birthday. Wells was a renowned American journalist, an entrepreneur running a publication at a time when neither black people nor women had very many rights in the United States and a fearless leader who fought for the advancement of civil liberties.
As Google notes on its Doodle page, Wells was just 25 years old when she became a co-owner and editor at the Free Speech and Headlight, a Memphis-based publication focused on racial inequality and civil injustices. A mob once ransacked the newspaper in response to Wells' messages of equality. In 1895, Wells assumed full control of the Chicago Conservator.
Google writes, "Today, for her 153rd birthday, we salute Ida B. Wells with a Doodle that commemorates her journalistic mettle and her unequivocal commitment to the advancement of civil liberties."
While Google Doodles are known for honoring a wide array of figures in U.S. and international history, the choice to honor Wells is especially noteworthy given the country's current state of affairs as it deals with the effects of decades and centuries of racism and racial inequality.