TLC Officially Cancels '19 Kids and Counting' After Josh Duggar Revelations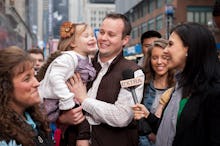 TLC canceled 19 Kids and Counting, the show that chronicled the Duggar family, according to the Associated Press.
"After thoughtful consideration, TLC and the Duggar family have decided to not move forward with 19 Kids and Counting," the network said in a statement. "The show will no longer appear on the air."
The move comes after family member Josh Duggar admitted to molesting his sisters in 2002 and 2003. While the show lost support from other sources, including being pulled from Hulu, the network's only initial action was to stop airing the show, leaving its fate in jeopardy as it considered green-lighting a spin-off instead.
Duggar's admissions became headline news after InTouch Weekly published documents revealing he molested several young women, including his own sisters. He was 14 and 15 when the crimes happened. The patriarch of the family, Jim Bob Duggar, failed to report the abuses to the police until a year after Josh's confession.
19 Kids and Counting, formerly known as 17 Kids and 18 Kids and grew as the family did, chronicled the giant family of Baptists for 10 seasons and 227 episodes. It was by far TLC's most-watched series, averaging 3.2 million viewers according to AP.
TLC also announced it will work with victim's rights organizations to produce a "one-hour documentary that will include Jill and Jessa and other survivors and families that have been affected by abuse" later this year. The special will air commercial-free.
"The goal is to take what has been a difficult and painful experience, and focus that attention on the really critical issue of child protection and child sexual abuse," group president of TLC, Animal Planet and Velocity Marjorie Kaplan told AP.