The Biggest Difference Between Hillary Clinton and Bernie Sanders? Their Donors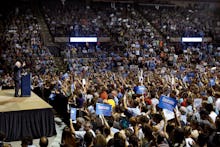 Hillary Clinton has raised more money than any of the 19 other candidates running for president in the Democratic and Republican primaries. According to new filings with the Federal Elections Commission, the Clinton campaign raised more than $47 million during the last quarter, at an average clip of more than $500,000 every 24 hours.
Running a distant second is fellow Democratic contender Sen. Bernie Sanders. The independent from Vermont pulled down $15.2 million in about two months, per FEC figures. Despite the considerable gap, Sanders' haul is impressive: The former mayor of Burlington has served in the House and Senate for nearly 25 years, but he has never run for national office or held a cabinet-level position in a presidential administration. For most Americans, "Bernie" is a relatively recent phenomenon.
Over the past month, however, Sanders has emerged as a serious contender for the Democratic nomination and an energizing force on the campaign trail. He regularly presides over massive rallies and events, drawing thousands of potential voters and, equally important at this stage, future donors. 
The breakdown: This hard work has paid off in the form of a grassroots explosion, with more than 80% of Sanders' campaign contributions coming in chunks of $200 or less. Clinton presents an almost mirror image; less than 20% of her much larger total came from small donors.
Clinton's team is understandably concerned about what voters might read into these figures. Not coincidentally, the campaign chose Wednesday night to share how depleted their base of active email contacts had been as recently as mid-April. A CNN report quoted a top campaign aide claiming fewer than 100,000 of the 2.5 million addresses accrued during the 2008 race were still functioning when the first 2016 blast went out.
Room to grow: While Clinton works to regenerate and expand her donor base, the second quarter figures suggest that, despite her overwhelming early lead, Sanders might actually be better positioned to go back to the well in the coming weeks and months.
In the weird calculus of campaign fundraising, the bottom line numbers can be just as important as the denominations in which they arrive. Individual donors are legally restricted from contributing more than $2,700 in each cycle of the campaign (the clock is re-set when the primary gives way to the general election), so Sanders, who took in 80.7% of his donations in small sums (under $200), is free to go back and ask those donors for more. 
By contrast, more than 3 in 5 of Clinton's contributors gave the maximum. Capped out now, those supporters will be effectively sidelined until and if Clinton wins a nominating contest likely to rage into the middle of next year.
The current breakdown is pretty much in line with past performance. Based on an analysis of donations received since 1980, the nonpartisan organization Crowdpac found in May that Sanders, over the course of his congressional career, received "over 60% of his campaign contributions from small dollar donors [giving between $1-199] compared with Clinton who receives less than 10% from that segment."
Proving his point: Sanders is using the fundraising figures as another way to highlight his appeal and cast Clinton in an unflattering light to liberal voters. "Our campaign is a strong grassroots movement supported by middle-class Americans from working families," he said in a statement. "I am proud that we have more than 284,000 individual donors and that the average contribution was about $35."
For a presidential candidate like Sanders, who makes his bones by appealing to the left with fiery, serial indictments of the undue influence of big money on government, the news Thursday, as first reported in the Washington Post, that Clinton used lobbyists to bundle more than $2 million in donations is another welcome narrative development. 
Hillary for Bernie? In an ironic twist, Sanders' gains in the latest polling — he has enjoyed a significant bump over the past several weeks — along with a potential win or two in the early nominating contests, could be precisely what Clinton needs to awaken what aides believe is, for now, a mostly complacent donor base.
Not that she's fretting publicly. The campaign took its message to Twitter Wednesday night, where it offered an excitedly twee assessment of their FEC filing.
Sanders didn't reveal how many guys named "Bernie" opened their wallets to line his campaign coffers, but given what we've learned over the past 12 hours, there were surely more than a few. More importantly, Sanders is more likely than Clinton to be able to count on his namesakes for another round of donations as this surprisingly close nominating process rolls toward a dramatic reckoning.