These Emmy Snubs Reveal a Persistent Problem in the Entertainment Industry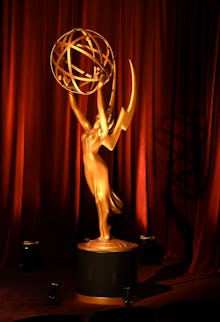 Jane the Virgin star Gina Rodriguez blew everyone away when she tearfully accepted the Golden Globe for best actress in a comedy series earlier this year. 
"This award is so much more than myself," she said at the awards show in January. "It represents a culture that wants to see themselves as heroes." 
But her show was all but completely shut out of the 2015 Emmy nominations, which were announced Thursday morning, receiving only one nomination. The handful of other shows that focus on the experiences of people of color were similarly underserved.
We all know Hollywood has a diversity problem. While many have noted that TV networks — as opposed to film execs — may be attempting to adapt television to reflect the increasingly diverse face of the United States, things might not be catching quick enough, as seen by the nominations.
Shows that focus on the experiences of minorities normally marginalized by the media — if represented at all — were shut out of the best comedy and best drama categories. Neither Fresh Off the Boat, which focuses on the experience of a first-generation Asian-American family, nor black-ish, a sitcom about an upper-middle class black family, received nominations despite critical acclaim. Rodriguez's own show is largely unparalleled on network television, as it features a complex, young Latina — a demographic normally stereotyped in the mainstream media.
Over at Fox, Taraji P. Henson was the only acting nominee for the hit show Empire. The Emmy voters shut out costar Terrence Howard, as well as the show itself, despite the fact many have noted it has served as a powerful example for the demand — and potential success — of shows centered on the black American experience.
The only programs nominated in the overall categories headed by actors of color were Key and Peele for best variety sketch series and Bessie and Nightingale for best TV movie. 
The bright side: The Emmys did acknowledge outstanding performers of color for their work. While other awards shows — most notably, the 2015 Academy Awards — were extremely unrepresentative, actors of color received Emmy nominations. Henson was nominated for Empire, as was Anthony Anderson for leading black-ish. David Oyelowo (Nightingale), Queen Latifah (Bessie), Don Cheadle (House of Lies), Viola Davis (How to Get Away With Murder) and Uzo Aduba (Orange Is the New Black) all received nominations, as well as about a dozen other actors of color in multiple categories. 
Ultimately, the series snubs should serve as a reminder of a much bigger problem in the television industry. Though minorities constituted nearly 40% of the U.S. population in 2013, they were underrepresented at a rate of 6-to-1 among broadcasted scripted leads and 2-to-1 among cable scripted leads during the 2012-'13 season, according to a 2015 report by the University of California, Los Angeles. And aside from representation being meaningful for viewers on personal and social levels, a 2014 UCLA study also found that entertainment featuring diverse performers actually makes more money.
While the actors of color nominated for their outstanding work this year should be applauded, it's important that the Emmys give them strong consideration for wins — and consider their series for recognition next year. We must refuse to accept a dismal increase in representation that hardly reflects the experiences of individuals and reality of our nation.