The 2015 Emmy Awards May Be the Queerest Emmys Ever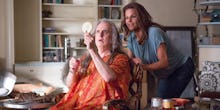 If this year's nominations are any indication, the 2015 Emmy Awards are going to be the queerest ever.
Multiple series featuring LGBTQ characters, actors and storylines earned nominations Thursday morning, including 11 nominations for Amazon's series Transparent, best series honors for Orange Is the New Black and Unbreakable Kimmy Schmidt and more. Though one can always want more — whither kudos for Looking and The Fosters? — it's an impressive slate for the oft-conservative awards body.
What's most incredible is how the queer and transgender figures represented aren't just white gay men. In fact, the show featuring an almost entirely gay male ensemble, Looking, was totally overlooked. Instead, the Emmys found a space for performers like Tituss Burgess, whose character Titus Andromedon is the absolute highlight of Unbreakable Kimmy Schmidt. In previous years, it's easy to imagine, he'd have been overlooked in favor of nominating more Modern Family actors.
Even Orange Is the New Black fared well in the face of rule changes that pushed its actors into drama categories despite the show's previous classification as a comedy. Though Lorraine Touissant was snubbed for her incredible work as the divisive character Vee, last year's Best Guest Actress winner Uzo Aduba scored a nomination for Best Supporting Actress. And while she's the only actor representing the show in the main categories this year, the show still managed a nomination for Best Drama Series in an incredibly competitive field.
But of course, Transparent is the real winner here. The series earned a spectacular 11 nominations, including Best Lead Actor for Jeffrey Tambor.
The story of Maura, a trans woman who comes out to her family and begins her transition, was one of the most impressive new series of the TV season. It told a story that was new to many audiences with grace and honesty. Tambor's performance as Maura rightfully won a Golden Globe, and should rightfully win the equivalent Emmy. It was a magnificent season of television. It was also a singularly important one.
We are in a cultural moment for transgender activism. Trans men and women are increasingly present in entertainment, from rising movie stars to reality TV programs, and visibility is stronger than ever. Yet comedians still make lazy jokes about trans people. Questions about their bodies remain prevalent. Gross accusations about trans people in bathrooms drive tyrannical legislation across the country . For every Caitlyn Jenner, there's another trans teen taking their own life — a fact Jenner herself acknowledged in her speech at Thursday night's ESPY Awards.
We need more representations of trans people — and of queer people generally — on TV. Every interview with Diane Sawyer, every reality show about transgender parents and, yes, every Transparent makes it a bit easier to be transgender in this country. Emmy voters embracing the latter show is an incredible sign of an organization making progress.
Hopefully Transparent will perform well come Emmy night on Sept. 20. It's certainly deserving, and big wins would mean more chances to hear creator Jill Solloway speak about progress, as she did at this year's Golden Globes when she thanked transgender people everywhere. 
"They are our family. They make this possible," Solloway said. Luckily, as we see more trans representation in pop culture, that family will grow even bigger.