6 Facts You Should Know About the 2015 Emmy Awards Nominations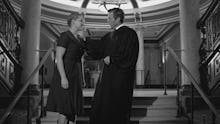 After digesting Thursday's Emmy nominations, a few stories stand out: Rule changes ruined certain actors' chances for nominations. This year's Emmys are likely to be wonderfully queer. And there are a few patterns among that emerge among the nominees — familiar names, inter-category trends, etc.
Here's a few fun facts you should know about this year's Emmy nominations.
1. Five performers got multiple acting nominations.
There was a surprisingly high number of nominees that earned multiple nominations this year — five, to be exact.
– Christine Baranski earned nods for The Good Wife and her stint on The Big Bang Theory. 
– Transparent star Gaby Hoffmann also received notice for her guest spot on Girls. 
– Jon Hamm was honored for the last season of Mad Men and the first season of Unbreakable Kimmy Schmidt. 
– Mom's Allison Janney earned her second nomination for Masters of Sex. 
– Finally, Louis CK earned nominations for not only his own show Louie, but for his hosting of Saturday Night Live.
2. Jane the Virgin only got one nod — but it's a pretty great one.
So yes, Jane the Virgin got royally screwed in the nominations. It should have easily earned nods for the show itself, the writing, series stars Gina Rodriguez and Jaime Camil and more. If it could only get one nomination, however, at least it got a funny, deserved one: Anthony Mendez for best narrator as the Latin Lover Narrator.
Virgin could be one of the heaviest shows on television, with unplanned pregnancies, romantic and marital drama and even an abundance of death. Luckily, the series' whimsical quality keeps the show light, making moments of gravitas all the more resonant. A huge part of why that sense of whimsy permeates is the Latin Lover Narrator, who speaks with such zeal and zest.
Mendez is no omniscient narrator; he's passionately invested in the proceedings, as surprised by the show's signature twists as anyone. His is an incredibly worthy nomination.
3. Almost one-fifth of the actors nominated were people of color.
Nineteen of the 99 performers nominated this year were people of color. While shows featuring people of color fared particularly poorly in the series categories, the actors themselves did particularly well. People of color represented 20% of the overall field. Of course, that means over 80% was still white. There's much that still needs to be done, but things are steadily improving. Just under 12% of the nominees last year were actors of color, so this is a sizable step up.
4. No, True Detective wasn't snubbed.
True Detective failed to get even a single nomination for this year's Emmys, but don't call it a snub. Because the second season waited more than 15 months to premiere after the first season finale, HBO's crime drama wasn't eligible for nominations this year. Season two will be eligible during the next nomination cycle. 
Of course, considering how poorly the second season has been received, the True Detective team might be staring down a real snub this time next year.
5. Only half of this year's Golden Globe winners were nominated for Emmys.
Of the eight television acting winners at the 2015 Golden Globes, only four received Emmy nominations: Transparent's Jeffrey Tambor, The Honorable Woman's Maggie Gyllenhaal, House of Cards' Kevin Spacey and Downton Abbey's Joanne Froggatt. Two of the others weren't eligible — Fargo's Billy Bob Thornton and The Normal Heart's Matt Bomer, who were nominated last year — while Jane the Virgin's Rodriguez and The Affair's Ruth Wilson failed to earn nominations. 
Luckily, this isn't the actresses' only shot: Both of their shows have been renewed, so they'll have a second chance next time.
6. Sketch comedy rules the day.
After years of failing to recognize the existence of any sketch show beyond Saturday Night Live, a simple category change this year shifted the genre's Emmy outlook immensely. The variety series category was split into two: one for talk shows like The Tonight Show Starring Jimmy Fallon, and another for sketch series like Inside Amy Schumer. Amy Schumer's beloved Comedy Central show earned four nominations, including for its star. Key and Peele picked up nominations for the series and star Keegan-Michael Key. And that old stalwart, Saturday Night Live, received one nomination as a whole and three for its performers: one for Kate McKinnon and one each for hosts Louis CK and Bill Hader.
Increasingly, sketch comedy dominates the cultural conversation, particularly clips from Inside Amy Schumer and Key and Peele. To see them recognized is just another step towards relevance for the Television Academy.