I'm a Gay Athlete. I Used to Be in the NFL. Caitlyn Jenner Is My Hero.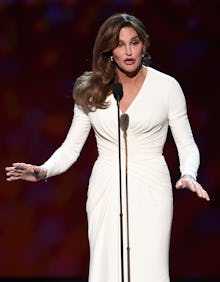 The "Pass the Mic" series showcases voices, perspectives and ideas that spark interesting conversations.
As I sat in the audience of the ESPYs Wednesday night and listened to Caitlyn Jenner's story and acceptance speech for the Arthur Ashe Courage Award, one thing was clear: Jenner was not "coming out." She was "inviting in" a world full of people she thought would never fully embrace and love her.  
The truth is, LGBT individuals live among the same people we fear. I've never loved the saying "coming out" because of the shame inherent to the idea that LGBT people live in an imagined closet. We aren't boogiemen or monsters; we are people trying to find a safe space in a world that doesn't always reward honesty, especially when it's packaged differently.
My friend, mentor and Mic senior editor Darnell Moore uses the language of "inviting in" to highlight that LGBT individuals do not "come out." We are always here; the world just isn't always safe to "invite in," because of the danger that exists when you decide to start loving yourself unapologetically.
As a former NFL player and the executive director of the You Can Play Project, an organization dedicated to fighting homophobia and transphobia in sports, Jenner reminds me of myself. I remember trying to compartmentalize and repackage my self-hatred and shame into a fuel that would sustain me on the athletic field. I also tried to create enough distractions off the field that I would never have to be my "true" self, all the while fooling others into believing I was happy. This was relatively easy in a world where almost everyone is doing the exact same thing.
While Jenner's story was being told at the ESPYs, I was also watching the audience members to see their reactions. Some were texting. A few more were talking to their neighbors. But the rest were being educated about Jenner and her journey to freedom. And those who watched saw themselves in Jenner's story too — though they may not have known it.
Many of us are afraid to "invite in" the world for the same reason Jenner was — the fear of facing rejection, or anger for being who we are. But to invite in another, or to be invited in by someone else, we must first love ourselves. Only then can we love others unconditionally and without judgment.
A great friend once told me, "We either exist in a space of fear or love." Jenner has chosen love. When will the rest of us? When will we stop searching for new and more heavily guarded hiding places that prevent us from facing our fears and finding love?
As I sat in the audience Wednesday night, I felt fear, but I also felt light — the light of love. What Jenner did so beautifully was use her story to highlight how we all struggle with feelings of self-doubt, battle to overcome our fears and search for self-love. I hope her speech and story will inspire solidarity, the kind that transforms the lives of trans individuals, especially trans women of color, who are being murdered at alarming rates around the world.
But though Jenner will certainly inspire many LGBT individuals with her courage, I hope she will also change the lives of those who are not LGBT yet still see themselves in her. The work of "inviting in" should not be limited to LGBT people. It's something we all should aspire to do, and the work starts with self and then moves to impact the lives of others. That's how we create a world where all are valued and loved. 
Laverne Cox once said, "Loving trans people is a revolutionary act." She was right. What's more, loving yourself is a revolutionary act when you've never really been taught how. Trans athletes and heroes like Caitlyn Jenner, Chris Mosier, Fallon Fox and Kye Allums have all "invited in" love, and in turn invited in the rest of us to truly see who they are. Who's next?