Uber Is Using Its App to Rally New Yorkers to Protest Their Own Mayor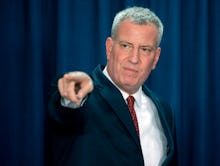 Tech companies have co-opted our attention, our media businesses, our pockets, our personal lives and our relationships. Now the rich corporations behind those apps are asking you to fight the government on their behalf.
New York Mayor Bill de Blasio recently proposed a system in which ride-sharing companies like Uber and Lyft would have to put a cap on the number of drivers in the city. Here's how Uber responded: Now, if you open Uber, you'll see this before you order your ride:
"Mayor de Blasio's plan to stop Uber will cost 10,000 jobs, hurt underserved areas and make wait times for Uber cars skyrocket," Uber representatives told Mic in a statement. "With this view, New York City riders can see for themselves how much time this political payback to big taxi owners will cost them."
Technology permeates every part of modern life. Now, the rich corporations behind those apps are asking you to fight the government on their behalf.
The growing influence of tech giants: Since before democracy ever existed, private companies and the rich have tried to use money to bend the law of the land to their interests. But because we live our lives through the front page of a few dozen apps, the tech titans of today have an incredibly fast mechanism for delivering political messages.
And these companies have clear political agendas. Airbnb wants to bulldoze the leasing policies in various cities so more people can convert their co-ops into hotels. Google and other tech companies fight against government agencies so that they're the only ones who have access to their previous user data. And Uber? Uber wants a whole slew of regulations and laws out of the way, and has to break or buy its way out of local laws in nearly every country it visits.
When you can pitch your political agenda in a push notification to millions of people, we have to be even more diligent in vetting the messages we're receiving.