One Photo Shows How Obama Was Welcomed to Oklahoma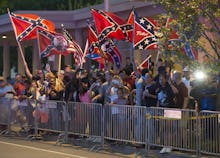 President Barack Obama was met with protesters brandishing Confederate battle flags after his arrival in Oklahoma City on Wednesday evening. New York Times photographer Doug Mills captured the moment in vivid detail.
The photo shows at least seven flags, all Confederate. An Oklahoma City Police Department spokesman told Mic the activity was legal and declined to comment further.  
The president is in the Sooner state for a two-day visit that has so far included a speech about economic opportunity, meetings with the Choctaw nation and a visit to a federal prison. Obama's visit to the state's El Reno prison also marks the first time a sitting president has visited a federal penitentiary. 
The incident comes amid a weeks-long debate around the U.S. about the appropriateness of Confederate symbols after a racially motivated massacre in Charleston, South Carolina, in June. After a passionate debate, the Republican-dominated South Carolina legislature voted to remove the Confederate battle flag from the Statehouse grounds, where it had flown continuously in some form or another since 1961.  
Across the country, flags and other symbols have come under fire. Republican Gov. Robert Bentley removed a battle flag from the Alabama statehouse grounds to head off potential protests, while TV Land announced it would no longer air reruns of the Dukes of Hazzard, which features the iconic Confederate flag-domed Dodge Charger, "General Lee." In Stone Mountain, Georgia, the city's chapter of the NAACP has called on the state to remove the Confederate Memorial Carving. 
Supporters of the flag, the Sons of Confederate Veterans, told WHSV in a statement the flag represented "the preservation of liberty and freedom" and it was "the motivating factor in the South's decision to fight the Second American Revolution."