MAC Announces Selena Makeup Line Two Decades After Her Death, And the Internet Cheers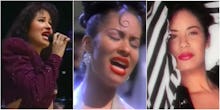 Selena Quintanilla lives on in the hearts of fans who continue listening to her music and organizing tributes to the late singer. Now, those fans will have the chance to buy a makeup collection inspired by the Tex-Mex artist, who passed away at the age of 23 at the pinnacle of her career in 1995. 
Major makeup brand MAC announced Thursday that it will debut a collection inspired by Selena in 2016. The MAC + Selena collection, which already has an accompanying #MACSelena hashtag, is the direct result of a Change.org petition started five months ago that requested just that: a MAC collection inspired by the beloved singer.
Unsurprisingly, fans of both MAC and Selena — including the 37,772 who signed the petition — are pretty damn excited right now. 
"Selena's talent and beauty, inside and out, have left a colorful, meaningful impact in the world, that has continued to grow over the last two decades," MAC senior vice president James Gager told Harper's Bazaar. "We have heard the passion and enthusiasm from her fans and wholeheartedly agree that her legacy embodies MAC's philosophy. We are so excited to announce a Selena-inspired MAC collection debuting in the latter part of 2016."
Selena's older sister Suzette Quintanilla, who is part of overseeing her sister's estate, told Harper's Bazaar that they're on board with the upcoming collection.
"Helping to create this collection brings me back to all those late night conversations on our tour bus when she spoke of having her own makeup line one day. If Selena were here she would be beyond ecstatic to have this happening. History is being made."
The Selena star still shines bright: Selena fandom has been going strong in the 20 years since her death, evident from the recent homages staged by the likes of Jennifer Lopez to the Fiesta de la Flor, a two-day festival in Texas to honor the star often referred to as the "Queen of Tejano" for her mix of Mexican regional music like cumbias with American pop. (The festival's website already has a countdown for next year's event.) Selena's music has been viewed millions of times on YouTube, and her official Twitter and Facebook accounts have 35,000 and 243,000 followers.
It's that enduring fascination that spurred Patty Rodriguez, a jewelry designer in Los Angeles, to start the Change.org petition earlier this year, according to NPR. She reached out to MAC directly and received an acknowledgement from the company that simply stated, "MAC admires the passion and joy Selena brought to the world." 
Undeterred, Rodriguez offered a list of numbers highlighting the power of the Latino consumer; according to Nielsen, sales of cosmetics declined in 2014 but actually grew among Latinos by 7%, noted NPR. The petition closed with almost 38,000 signatures.
Recognizing and respecting the growing Latina demographic is something MAC has only come to over time. The company ran into trouble in 2010 for an anticipated makeup collaboration with fashion label Rodarte that was loosely based on the city of Juarez, Mexico. The line featured products with names "Juarez" and "Ghost Town," which many found offensive since the city is plagued by violence and unsolved rapes and murder of women. Mounting pressure and disapproval eventually prompted MAC to pull the line completely, according to Hispanic Lifestyle.
Now MAC is singing a tune that's more in line with its company ethos. "Being inclusive was always built into the DNA of the brand," John Demsey, who was the president of MAC from 1998 to 2005, told Allure in 2013.
Selena's death was a turning point for marketing to Latinos: Interest in the Latino consumer market grew after Selena's death, according to Selenidad: Selena, Latinos, and the Performance of Memory by Deborah Paredez, cited by NPR. That's especially important for makeup companies, as Latinos account for more beauty sales than the average consumer and make up 13% of all cosmetics sales, according to data from Nielsen. 
The specific marriage of the Latino fascination with Selena with the Latino love for makeup is evident online. Her distinct makeup, characterized by strong, dark eyebrows and a matte red lip, forms the basis of makeup tutorials uploaded to YouTube by fans. A four-minute video of "Selena Quintanilla-Perez makeup transformation," for example, has 96,000 views.
For a generation of fans who grew up listening "Como una Flor" and who still dance to "Bidi bidi bom bom," it's never too late to honor Selena, the Queen of Tejano. Now fans have a brand that wants to help them do it even more beautifully.
h/t Harper's Bazaar