Five Left Dead After Shooting in Chattanooga, Tennessee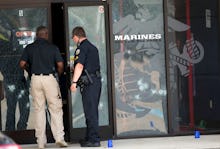 A gunman attacked two military facilities in Chattanooga, Tennessee, on Thursday, opening fire and killing four United States marines. The gunman was reportedly killed after the attack.
Multiple sources, including Associated Press and CBS News, are reporting the shooter as Kuwaiti native Muhammod Youssuf Abdulazeez, according to an anonymous law enforcement official. According to the reports, Abdulazeez was 24 years old.
Because the shooting took place on federal military property, the FBI is leading the investigation, according to Yahoo News. The attack is being initially investigated as an act of domestic terrorism, though that may change as more details emerge.
A spokesman for a U.S. Army Recruiting Command in Fort Knox, Kentucky, told the Associated Press the first attack occurred at a recruitment facility on Old Lee Highway. The second shooting took place seven miles away, at the Navy Operational Support Center and the Marine Corps Reserve Center, which are next to each other, leaving those inside the building in the line of fire, though none are believed to be have been injured. 
The shooter is believed, but not confirmed, to be the same person. A few hours after the attacks, the unidentified shooter was dead. Aside from the four marines and the perpetrator killed, a soldier and a police officer were injured and are being treated in hospital.
"Lives have been lost from some faithful people who have been serving our country, and I think I join all Tennesseans in being both sickened and saddened by this," Tennessee Gov. Bill Haslam said, according to Associated Press.
Shortly after the shooting, President Barack Obama spoke to reports in the Oval Office of the White House saying, according to Yahoo News, "I ask all Americans to pray for the families who are grief-stricken at this point and I want everyone to understand that we will be thorough and prompt in figuring out exactly what happened."
This article will be updated as further details become available.
July 16, 2015, 4:29 p.m.: This article has been updated.
July 22, 2015, 9:39 a.m.: This story has been updated to reflect the FBI's spelling of Mohammod Youssuf Abdulazeez.