Women Are Making Pop Music Matter, and Men Should Take Note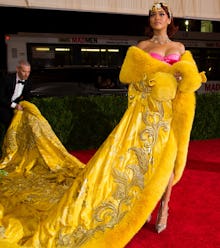 Who runs the world? 
Beyoncé told us back in 2011, and while we're still hustling to make her vision a reality, in the pop world, girls absolutely rule. Miley Cyrus, Taylor Swift, Beyoncé, Rihanna, Nicki Minaj and Katy Perry are dominating the bulk of the conversation in recent years. The field has been so female-dominated, it's had publications like Telegraph asking, "Where Have All The Male Pop Stars Gone?" and Entertainment Weekly charting "the slow, curious fade of the male pop star."
But female pop divas are doing more than just dominating headlines in gossip columns and social media personality contests, as some of the interviewees in the Entertainment Weekly article seem to claim. No, what they're doing is making pop music into a true cultural force. All of the women mentioned above are using their influence to create social change. And all those male pop musicians watching from the shadows should take note.
Music for a cause: Few artists have been using their music to make more significant social change than Cyrus. In May, Cyrus launched Happy Hippie Foundation to offer support to homeless and LGBTQ youth. She announced it with a series of Backyard Music sessions, filming covers of classics like "Happy Together" and "50 Ways to Leave Your Lover," backed up by badasses like Ariana Grande, Joan Jett and Against Me!'s transgender frontwoman Laura Jane Grace. 
"I want to use my voice as a megaphone to young people everywhere and encourage human evolution," Cyrus said in a statement. "No one should have to hide who they really are, no matter what his or her name, gender or status. That's why Happy Hippies are here to say that every life is valuable!"
In June, Cyrus took her activism a step further, turning her Instagram into a veritable hall of fame for trans rights activists, offering her platform to young voices that need to be heard. In doing so, she's promoted discussion around challenging identity issues and showed how far we have to go regarding transgender rights.
In the shadow of Baltimore, Beyoncé also offered her Instagram to those who needed the attention. She filled her personal website with pictures from the uprising and posted several Instagram captions urging her 31.3 million followers to donate to the NAACP's efforts "to provide housing, food and supplies to those affected by the unrest in Baltimore."
More recently, Swift took to Tumblr to stand up for the indie artists of the world for their not being paid during the first three trial months of Apple Music. "This is not about me," she wrote, "This is about the new artist or band that has just released their first single and will not be paid for its success. This is about the young songwriter who just got his or her first cut and thought that the royalties from that would get them out of debt."
She made her declaration without her record company's knowledge. And though it was a risky move, it pushed talks with Apple in the right direction. With a single post, Swift forced a giant corporation bend to her will and brought indie musicians back into the conversation.
This is not your mother's pop activism: The causes these women are dedicating themselves to are not the politically correct, non-confrontational activist causes that big pop stars have traditionally broadcasted. This is not calling for an end to AIDS, breast cancer or war, causes that no well-grounded individual would be offended by. Instead, these women are focusing on the causes we need to be paying attention to, but often aren't — a riskier mantle that male pop stars have been notably loathe to pick up.
Sam Smith, who earned the biggest headlines in the male pop world when he won four Grammys this year, has explicitly stated he's "not trying to be a spokesperson" for gay rights.
"It sounds awful of me, but I'm really just trying to live my life and write music about it," he told Digital Spy. "I'm not trying to heal the world. From a young age I've always been like this, so it's been normal. My family and friends have made it feel normal and I'm not going to stop that now." 
It's a completely opposite tack from Cyrus' campaigns, and the problem is, as Gawker writer Rich Juzwiak points out, that the attitude plays into a larger societal narrative that asks people of LGBTQ persuasions to suppress their identity in order to gain acceptance.
Pop is not powerful in Smith's hands — it's just normal.
There is not a lack of men in pop right now. It just seems that way because male pop stars are not pushing their music in any significantly revolutionary directions. Bieber is too busy getting his bulge Photoshopped and asking for the world to forgive his hooliganism to offer us anything to revise our impression of him. Bruno Mars is topping the charts, but keeping quiet on serious issues. Ed Sheeran is too busy putting us all to sleep.
But even though women are making pop urgent, they're not being rewarded for their efforts on the charts. Last week, Fusion ran a piece exploring why so few women appear on the top 40 chart. They found "women only make up 29% of the top 40 so far in 2015." It's difficult to explain why, as the publication admits, considering the headlines they dominate. But the most obvious explanation: Women still face rampant sexism at all levels of the industry. It influences the way labels promote female artists' music and affects the way fans judge it. But the way women are combatting these obstacles have added even more strength to their voices. 
"Women in the industry are judged more," Nicki Minaj told Time magazine in February. "If you speak up for yourself, you're a bitch. If you party too much, you're a whore. Men don't get called these things." This and other statements she's gone out of her way to make have done wonders to cement her as a feminist, body positive and inspirational figure.
Ladies in pop music get more bossed up with each passing day. And until men start bringing some of this daring to the table, they're going to remain followers in a women-led world.