Amy Schumer Texted Katie Couric's Husband About Anal Sex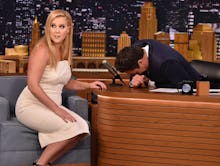 Amy Schumer refuses to adhere to societal norms: The not-so-politically correct comedian, whose film Trainwreck comes out Friday, has a knack for stirring up controversy through her sometimes sexually charged antics. 
Schumer's interview on Wednesday's episode of The Tonight Show Starring Jimmy Fallon got really ... detailed when the 34-year-old discussed a lewd text message she sent to Katie Couric's husband when the reporter left her phone at a shared dinner table during the Glamour Women of the Year Awards. 
Schumer and Couric sat side-by-side at a star-filled table when the latter noticed her husband John Molner was attending the event as well. As the Yahoo Global News anchor greeted her husband, she happened to leave her phone behind — a horrible mistake she undoubtedly regrets.
Luckily, the newly married Couric seems to have taken the prank in stride, according to her Twitter page:
If Schumer's hilariously absurd actions lend itself to Trainwreck, which she wrote and Judd Apatow directed, the movie is sure to be just that: one big, ridiculous wreck.