Friday Night Lights Creator Peter Berg Takes a Shot at Caitlyn Jenner on Instagram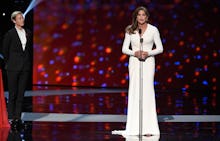 Caitlyn Jenner's speech on courage and respect for transgender people during Wednesday night's 2015 ESPY Awards in Los Angeles was widely praised as a pivotal and important moment for the 65-year-old former Olympian and for the larger transgender community, but not everyone was moved. 
Friday Night Lights creator and director of the film Lone Survivor Peter Berg made it clear that he didn't think Jenner, an Olympic gold medal winner and advocate for the transgender community, deserved the Arthur Ashe Courage Award, an honor given annually to athletes whose contributions to society go beyond their athletic accomplishments.
Berg expressed contempt for Jenner receiving the honor and tried to belittle what many considered her overwhelming strength and courage by comparing Jenner to U.S. soldiers who lost limbs in war. The attack on Jenner came in the form of a photo posted to Berg's Instagram account of U.S. Army veteran and double amputee Gregory D. Gadson alongside a photo of Jenner during her transition. 
"One man traded two legs for the freedom of the other to trade two balls for two boobs," the caption reads. "Guess which man made the cover of Vanity Fair, was praised for his courage by President Obama and is to be honored with the 'Arthur Ashe Courage Award' by ESPN?"
Berg's post was widely criticized as insensitive and transphobic. Many Instagram users took to the comments section of his Instagram post to berate the television creator. "You're a disgusting human being," one user wrote. "Why the need to compare apples to oranges? There are different types of courage."
Posts like Berg's have circulated on social media since Jenner received the award. Franklin Graham, son of Christian leader Franklin Graham, took to Facebook on Saturday to share his own transphobic thoughts on Jenner.
"I find this hard to swallow after spending time with wounded military veterans and their spouses with Operation Heal Our Patriots — they are true heroes and their lives define courage," Graham wrote. "Some have had 30 or 40 surgeries, not to change their gender, but to try to put their bodies back together after defending our country. And to recognize the very confused Caitlyn Jenner as a hero before the entire world? Give me a break."
Such backlash against Jenner reflects the misunderstanding swirling around transgender issues. Jenner, like others speaking for transgender communities, is working to dismantle such stigma. 
Often, their message has been about simply wanting to be treated like human beings. "Trans people deserve something vital: They deserve your respect," Jenner said during Wednesday's speech. "If you want to call me names, make jokes, doubt my intentions, go ahead, because the reality is, I can take it. But for the thousands of kids out there, coming to terms with being true to who they are, they shouldn't have to take it."