Here's What We Know About the Chattanooga Shooter So Far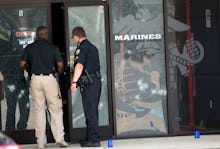 On Thursday morning, a lone gunman opened fire on two military facilities in Chattanooga, Tennessee, killing four marines. The ordeal ultimately ended in the death of the shooter as well. 
1. The identity of the shooter was confirmed as Mohammod Youssuf Abdulazeez by the Federal Bureau of Investigation on Thursday afternoon.
2. The FBI is investigating the incident as a terrorist attack given it transpired on military property, a development echoed by President Barack Obama, who delivered a televised address on the incident Thursday evening from the Oval Office.
3. The FBI says Abdulazeez is 24 years old and is believed to be Kuwait-born, though it's unclear whether he is an American citizen, an anonymous United States official told the Associated Press. 
4. The gunman is also alleged to be from Hixson, Tennessee, a town a few miles from Chattanooga, according to the same anonymous official.
5. Abdulazeez's home was allegedly raided Thursday, and two women were detained in handcuffs, reports the BBC.
6. At this point, it remains unclear if his first name is spelled as Muhammad or Mohammad, the AP reports. 
7. A Hamilton County Jail booking report lists "ADBULAZEER, MOHAMMAD YOUSSDUF" as being arrested for a driving under the influence in April, which many suspect is the same individual, whose name was misspelled during booking.
8. University of Tennessee at Chattanooga has a student with the same name, who graduated with a degree in 2012, according to a spokesman for the college. 
9. He is believed to have lived in the United States for a number of years. 
10. Pictures of a man identified as Abdulazeez have been circulating on social media, though it is yet to be confirmed they are, in fact, of the gunman.
11. It is rumored city authorities appointed Abdulazeez's father, an alleged Chattanooga city's public works department employee, as a special constable.
"Obviously, when you have an attack on a U.S. military facility, then we have to make sure that we have all the information necessary to make an assessment ... And as we have more information, we'll let the public know," the President said in a statement emailed to Mic.
"But in the meantime, I'd ask all Americans to pray for the families who are grief-stricken at this point.  And I want everybody to understand that we will be thorough and prompt in figuring out exactly what happened," the president assured the country. 
July 16, 2015, 6:46 p.m.: This article has been updated.
July 22, 2015, 9:39 a.m.: This story has been updated to reflect the FBI's spelling of Mohammod Youssuf Abdulazeez.