Everyone Is Looking at This Sign From the Chattanooga Shooting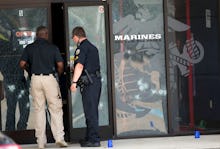 On Thursday, gunman Muhammod Youssuf Abdulazeez opened fire with a high-powered rifle at two military facilities Chattanooga, Tennessee. Abdulazeez killed four United States marines before he was reportedly gunned down after the attack.
Now a photo taken near the scene is igniting a debate online over the use of guns in and near a U.S. Marine Recruiting Center. A number of images posted online appear to show a sign that reads "no guns allowed" on the door of the military recruitment center where the violence broke out.
On Twitter, opinions were divided over whether more armed bystanders on the scene could have prevented the tragedy. Many others could not help but point out the irony of how ineffective the sign was and ultimately proved no deterrent to one committed to do harm. 
The FBI is currently investigating the case as an act of domestic terrorism. In a statement, Tennessee Gov. Bill Haslam said, "Lives have been lost from some faithful people who have been serving our country, and I think I join all Tennesseans in being both sickened and saddened by this," the Associated Press reported. 
July 22, 2015, 9:39 a.m.: This story has been updated to reflect the FBI's spelling of Mohammod Youssuf Abdulazeez.