Sandra Bland Tried to Bail Herself Out Just Before Her Death in Police Custody: Bondsman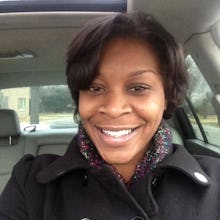 In a continuing plot twist surrounding the suspicious death of Sandra Bland in police custody on Monday, a local bail bondsman is now claiming the 28-year-old reached out to him in an attempt to post bail just before her alleged suicide.
"I talked to her when she first went to jail," Texas bondsman Joe Booker told the Daily Beast. "I called her mother for her." Bland's bail was set for $5,000, according to the local Waller County Sheriff's Office.
Mic reached out to Booker, who was unavailable for comment Friday morning. 
Bland, who lived in Naperville, Illinois, was in Texas to start a new job at her alma mater, Prairie View A&M University, when she was pulled over by local police in Waller County for failing to signal before changing lanes. At some point, an altercation occurred and an officer arrested Bland. Footage of the incident shows the police holding Bland to the ground as she protests. "You slammed my head into the ground, do you not even care about that?" she says. "I can't even hear." 
Then on Monday morning, she was dead. In a statement posted to Facebook, the Waller County Sheriff's Office said the cause was "self-inflicted asphyxiation."
The reported bail attempt was only the latest in the string of suspicious revelations surroundings Bland's death that have led many to doubt the official police version of events. On Thursday, Daily Kos reported that the sheriff of Waller County, Glenn Smith, had been suspended and then fired from his previous job as Hempstead, Texas, police chief in 2008 after allegations of racism from local residents.  
Bland's family has disputed the suicide claim. Family attorney Cannon Lambert told reporters at a news conference Thursday that relatives thought "she was killed," the Chicago Tribune reports. Bland also maintained a vibrant Facebook page (now apparently locked down) and a Twitter account that mixed a passion for social justice with a litany of smiling photos. Bland's sister Sharon Cooper told the Chicago Tribune that Bland had not been suicidal and called the idea "unfathomable." 
Watch footage of her arrest here.