After Her Pad Fell Out on TV, This Singer Had the Perfect Response to Being Period Shamed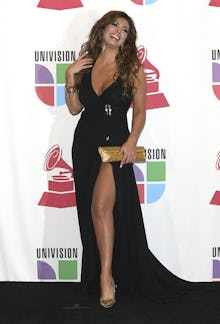 During a recent performance on the the Univision show Despierta América, Mexican singer and actress Patricia Navidad appeared to experience a wardrobe malfunction that was a little more awkward than most.
Her feminine pad fell out.
R-E-S-P-E-C-T: But the show must go on, and Navidad didn't skip a beat. She gamely wrapped up her performance, seemingly not taking the minor incident too seriously. But then the video went viral, and the assholes of the Internet descended upon the comments section to engage in a snarky round of period-shaming en español.
But Navidad wasn't having any of their shit. She quickly shot back via a series of impassioned tweets, the Latin Times reports. "It's sad that there are men that forget they are here because of a woman, and they are offensive and vulgar to women," she wrote in Spanish, before noting that there's nothing shameful about surfing the crimson wave.
Navidad also added that everyone was too quick to make assumptions about what the item on the floor even was in the first place, hinting that it could just as well have been a tissue or a Kleenex. 
The abhorrent trend of period-shaming: Navidad's experience is only the latest example of period-shaming by trolls who are grossed out by the (natural! common! human!) experience of female menstruation.
As Emily Jupp wrote for the Independent earlier this year, there's a "menstruation taboo that won't go away." "It's interesting that so much embarrassment, awkwardness and shame surround a natural bodily function experienced by half the population at some point in their lives," she writes.
Nowhere was the menstruation stigma more evident than on Instagram in March, when a photo of artist Rupi Kaur with blood on her sweatpants was removed by the site's period police. Following intense social media criticism, Instagram later put the photo back up. But the fact that the image was deemed inappropriate in the first place speaks to a culture that continuously shames women for their biology.
Luckily, we now have a menstrual hero in Navidad, who is willing to stand up for women's right to bleed in the face of sexist bullshit. And we have to give her props for her creative retort to men who insist on trashing women for their menstrual cycles.
"Too bad all the men who are making fun of this weren't there, because if it is what they say it was, I would've loved to have smeared it on their face," she tweeted. 
Word.
h/t BuzzFeed