Watch the Teaser Trailer for Leonardo DiCaprio's New Movie 'The Revenant'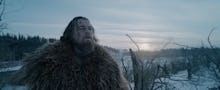 If the first teaser trailer for Leonardo DiCaprio's new movie The Revenant is any indication, the actor is going to a more intense place than he ever has before.
"I ain't afraid to die no more," his character says in the otherwise nearly wordless clip as he looks out over a desolate, snowy wasteland. "I done it already."
The movie tells the story of one man hiking cross-country after being betrayed by his close friend (Tom Hardy). It's directed by Alejandro G. Iñárritu, and is his first project to be released since his film Birdman won the Oscars for best picture, best director and more last year. 
Unlike Birdman, a wholly original story set in present day, The Revenant is inspired by the story of explorer Hugh Glass. Glass was renowned for surviving a bear attack and not only living, but then trekking across the country. If the movie is set in the same time period as the actual events, it takes place in the early 19th century.
This is DiCaprio's first movie since 2013's The Wolf of Wall Street, for which he won a Golden Globe and received an Oscar nomination. The actor is notoriously not an Oscar winner despite four previous nominations — will a fifth be the charm this year?
The Revenant hits theaters Christmas Day. Watch the full trailer below.