Wilco Released New Album 'Star Wars' for Free — Here's How You Get It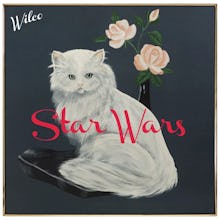 Wilco must know that everyone loves a good surprise. The alternative rock band from Chicago dropped a new album featuring 11 original tracks, but there's a nice twist: You can actually download the entire thing for free.
Frontman Jeff Tweedy was quoted on the band's Facebook page in a post unveiling the free album, titled Star Wars, saying that the band decided to drop the album out of nowhere and not charge a single dollar for downloading because it "felt fun."
Do you ever need a more brilliant excuse to release 11 original tracks for free? The album artwork features what appears to be an oil painting of a stoic cat behind the title, Star Wars.
This is the band's ninth studio album, and comes after almost four years since The Whole Love, according to Rolling Stone. A full track list is available at Pitchfork.
Wilco was first formed in 1994, and rose to alternative rock prominence with the controversial release of its fourth studio album, 2002's Yankee Hotel Foxtrot. The band left its label after recording Foxtrot, but kept the rights to the album and streamed it on their website for free before signing onto Warner Music Group's label.
Time checked out the new album and seemed pleased with the surprise release: "The album's sound is classic Wilco, with plenty of guitar shredding and a couple of acoustic country songs. And no, it doesn't really have anything to do with Star Wars the movie, but the cover does include a fabulously kitschy cat."
Listen to Star Wars below, via a YouTube stream, or download the whole thing from the band's website.