This Is Your Weekend Guide to Pemberton Music Festival 2015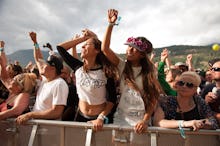 Pemberton Music Festival, the four-day camping and lodging event that kicked off July 16 in British Columbia, Canada, offers a unique festival experience nestled away in a remote village in Pemberton valley. If you're already there, or heading to the event this weekend, get ready: You're in for quite the trip.
What is it: Pemberton Festival originated in 2008 and hosted several large acts its first year, including Coldplay, Tom Petty and the Heartbreakers, Jay-Z, Nine Inch Nails and the Flaming Lips.
However, organizer Live Nation cancelled the event the next two years, eventually announcing that the concert would return in 2014.
This year, HUKA Entertainment has taken over as host, organizing several stages that will host acts from just about every genre: Rock, EDM, hip-hop, heavy metal and even standup comedy will make an appearance.
That spotlight on comedy acts is unique to Pembleton. Some of the acts lined up for this year include Nick Offerman, Chris Trew, Tig Notaro and Reggie Watts.
The festival kicked off Thursday with headliner J. Cole and other performances including Boyfriend, Bassnectar, Flux Pavilion and The War On Drugs. The rest of the weekend seems just as promising, and Friday is no exception: Kid Cudi will take the stage at 7:15 p.m., followed by The Black Keys and Tiësto. 
Who to catch: The dance-rock funktronica duo Chromeo offer a live performance unparalleled by most other electronic groups — and they've been receiving mainstream attention for their single "Jealous (I Ain't With It)". They'll be taking the stage Saturday at 5:45, followed by Weezer at 7. 
You may not know about: At 9 p.m Saturday, an instrumental electronic rock band with a fresh new-age sound should deliver an equally exciting performance. That band is STS9, a 5-piece electronic collective from Santa Cruz, California, that has a wide sonic range, with some songs offering a psychedelic feel and others sounding more like hip-hop.
Headliner Kendrick Lamar will close the festival with his performance on Sunday night at 10:45. Lamar has been having quite the year, with his album To Pimp A Butterfly being widely lauded as a seminal release in modern hip-hop. That album was composed by executive producer Dr. Dre and features big-name artists like Snoop Dogg as well as other, less-known vocalists, pianists and even saxophonists, whose music careers are currently burgeoning. Lamar himself comes off of an explosive performance of his latest single, "Alright," at the 2015 BET Awards. If the energy Lamar through at the BET performance indicates how he will take the stage at Pembleton Music Festival, audiences have a truly special opportunity to see one of the biggest artists in rap do it right come Sunday night.
The festival's campgrounds are officially sold out, but you can still purchase single-day passes through the event website.  For more information and to see the entire schedules, check out the lineup here.