Here Are the Four Marines Killed During the Terrorist Attack in Chattanooga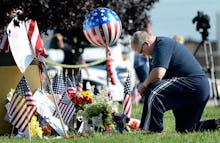 Mohammod Youssuf Abdulazeez opened fire Thursday at two military facilities in Chattanooga, Tennessee, killing four Marines before police gunned him down.
During much of that first day, media attention focused on the gunman. The attack by the 24-year-old Kuwait-born naturalized American citizen is now being investigated by the FBI as a potential case of domestic terrorism.
The military has not officially released the identities of the deceased, but the names of all four victims emerged unofficially Friday through condolences by friends and relatives on social media. Together, they paint a vivid picture of the human cost of the tragedy. 
Sgt. David Wyatt
Wyatt was a family man who moved to Chattanooga from his original home in Russellville, Arkansas. Friends and acquaintances began inundating his wife Lorri's Facebook page Friday with condolences.
Carson Holmquist
Holmquist, 27, originally hailed from Grantsburg, Wisconsin, but had recently lived in Jacksonville, North Carolina, according to reports. Holmquist was a proud father and husband, and his Facebook page is replete with photos and videos of him with his wife and young son. Previously, Holmquist had spent time deployed overseas, from which he returned last July. 
Thomas Sullivan
Originally from Springfield, Massachusetts, 40-year-old Sullivan previously survived two tours in Iraq and was a recipient of the Purple Heart. Both Springfield Mayor Domenic J. Sarno and Massachusetts Gov. Charlie Baker issued statements of condolence to family members. The city's Nathan Bill's Bar & Restaurant, partly owned by Sullivan's brother Joseph, posted its condolences in a post that went viral.
Skip Wells
Originally from Marietta, Georgia, 21-year-old Wells attended the local Sprayberry High School before going on to attend Georgia Southern University, though he did not finish his degree there, WSMV reported. Speaking after the tragedy, distraught friends and family said Wells was a friendly guy who enlisted in the military because he loved his country. "We don't understand the whys. Senseless is a word used too often, but this you can't even hang your hat on," family spokesman Andy Kingery told WSB.  
July 22, 2015, 9:39 a.m.: This story has been updated to reflect the FBI's spelling of Mohammod Youssuf Abdulazeez.