The Federal Government Just Took a Huge Step to End Job Discrimination for LGBT Americans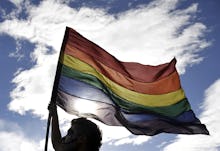 In a quietly groundbreaking decision, the U.S. Equal Employment Opportunity Commission ruled Wednesday that employment discrimination based on sexual orientation was already illegal under existing federal law.
In a 3-2 decision, the commission found that Title VII of the Civil Rights Act of 1964 forbid such discrimination. According to the text, the act prohibits employment discrimination based on "race, color, religion, sex and national origin." The EEOC found the language broad enough to include sexual orientation.    
"Allegations of discrimination on the basis of sexual orientation necessarily state a claim of discrimination on the basis of sex," the commission ruled in their 17-page opinion.
Presently, the decision only applies to employees of the federal government, however, that designation includes all EEOC offices around the country that regularly handles discrimination complaints among private employers, BuzzFeed reported.
A spokesman for the EEOC was unavailable for comment.
What it means: While courts still have the final word over claims of discrimination, the decision was an unexpected and watershed moment for LGBT rights in the United States. With the Supreme Court ruling in June legalizing marriage equality, many activists were looking toward workplace discrimination as the next front the in struggle for LGBT progress.
For years, federal legislation to address the problem, like the Employment Non-Discrimination Act, has stalled in Congress. Today, LGBT Americans can be fired for being who they are in 28 states. The EEOC decision has the potential to ultimately offer broad-based protections for LGBT Americans nationwide. 
As BuzzFeed's Chris Geidner pointed out, U.S. federal courts often defer to the EEOC on civil rights matters. In a 2012 ruling by the same body, the EEOC found that transgender employees were covered under Title VII. Shortly after, President Barack Obama and the Department of Justice filed briefs on behalf of the ruling in federal court.  "This is groundbreaking because this is the same sort of decision for lesbian, gay, and bisexual workers as we had in 2012 for trans workers," wrote Geidner.
In a statement to Mic, Freedom for All Americans campaign manager Matt McTighe applauded the ruling but also spoke of the continued need for more action at the federal level.
"This EEOC ruling affirms what so many Americans already know to be true: discrimination against LGBT people in the workplace is wrong." said McTighe. "This highlights the clear need for a comprehensive, federal nondiscrimination bill that thoroughly addresses discrimination LGBT people face in all aspects of their lives, in and beyond the workplace – including housing, public accommodations, education and finance."
Read the full EEOC decision below: