Here's What Police Are Learning About Tennessee Shooter Mohammod Abdulazeez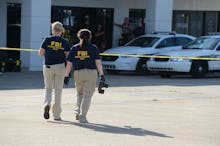 More details about the alleged gunman in the Chattanooga, Tennessee, shooting emerged Friday, including that Mohammod Youssuf Abdulazeez, a 24-year-old naturalized American citizen of Arab descent, took a trip to the Middle East last year, raising the concern he may have been radicalized during that time. 
Abdulazeez, who died Thursday from a police bullet and whose life remains largely a mystery to the public, left the country in 2014 to travel through the Middle East. His trip included a seven-month stay in Jordan and a possible stop in Yemen before he returned to the United States in November, investigators have learned.
Al-Qaida or the Islamic State group? Reuters reports there are no immediate indications he had extremist connections, however the FBI is investigating whether Abdulazeez had contact with any extremist groups while abroad that could have inspired the attack back home.
What we knew for sure was that Abdulazeez was born in Kuwait, held Jordanian citizenship and was a naturalized U.S. citizen. He was Muslim, according to a short-lived blog in which he talked about his faith. In it, he described the material world as a "prison" and wrote about the Muslim faith being rooted in study and discipline, not worldly pleasures. 
The New York Times reported Abdulazeez was not on the FBI's radar or any terrorist watch list before Thursday's attack, according to federal investigators. Law enforcement confirmed Abdulazeez's identity Thursday and raided his home that night.
Many questions remain about the attack that killed four Marines, including motive. Some have wondered whether Abdulazeez may have radicalized during his time in the Middle East, inspired by the Islamic State group or other extremists he could have encountered there. The terrorist group has been known to recruit fighters for its jihad from inside Yemen and other Middle Eastern states.
U.S. federal officials have estimated that in 2014, dozens of Americans likely traveled abroad to areas where the Islamic State group has been active to link up with the terrorist group and potentially bring its violent extremism back to the U.S. 
On Thursday, Abdulazeez, armed with a high-powered rifle, opened fire with 25 to 30 rounds on a military career center in a strip mall in Chattanooga. He then drove seven miles to a U.S. Navy operational support center, where he targeted and killed four Marines. The attack was being investigated as a potential act of domestic terrorism, according to the Associated Press.
Little was known about Abdulazeez in the immediate wake of the shooting. He had recently had a job at Superior Essex, a producer of wire and cable products, according to ABC News. The company told ABC it was "shocked and deeply saddened" by the news of Abdulazeez's shooting spree. 
The portrait of the gunman that began to take shape was one of a man who felt at home in the U.S. but struggled to balance his Islamic faith with American ideals, according to Abdulazeez's former mixed martial arts trainer, who spoke with USA Today. 
He was a "good kid." Several people who knew Abdulazeez said they were stunned to learn about what he had done. Neighbor Dean McDaniel told CNN he considered Abdulazeez a "good kid" and said he had "never had any kind of conflict" with the family. 
Abdulazeez's former high school teacher told CNN he "never had any problems out of Mohammad."
In the attack's aftermath, many mourned the four Marines who were killed. "It's a shock what happened, in a great city," said U.S. Sen. Bob Corker, who was the Chattanooga mayor from 2001 to 2005, according to WBIR. 
Officials with the FBI and Department of Homeland Security continued to process evidence on Friday and interview people close to Abdulazeez, including his family and friends. Investigators said they planned to autopsy the shooter's body over the weekend. 
Islamophobia in the wake of shooting: Not long after news broke that Abdulazeez was likely Muslim, Twitter users began blasting Islam by sharing anti-Islam tweets, some of which suggested Islam and terrorism were one in the same. 
"There is no such thing ... as a LoneWolf Muslim terrorist," one social media user tweeted. "They're bound to the same perverted ideology."
Such backlash against Muslims has not been uncommon in the wake of similar isolated tragedies. Soon after radical Islamists attacked and killed 12 people at the offices of French magazine Charlie Hebdo in January, attacks on French mosques escalated. 
July 22, 9:39 a.m.: This story has been updated to reflect the FBI's spelling of Mohammod Youssuf Abdulazeez.