This Plus-Size Model Is Shattering Stereotypes About Fat and Fitness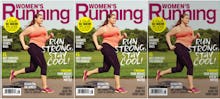 Erika Schenk has been an avid runner for nearly a decade. But 18-year-old Schenk isn't just gorgeous and fit — she's also a plus-size model, whose body type is different than those typically featured in fitness magazines.
That's why the world rejoiced when the following images of Schenk on the cover of the August issue of Women's Running hit newsstands.
The magazine's decision to feature a plus-size model is major, in large part because most fitness publications typically feature smaller-sized models on their covers.
"Some women believe that since they have curves they can't run or shouldn't run," Schenk told the magazine. "Running is for every body, any time."
Jessica Sebor, editor-in-chief of Women's Running, echoed the sentiment. "There's a stereotype that all runners are skinny, and that's just not the case," Sebor told Today.com. "Runners come in all shapes and sizes. You can go any race finish line, from a 5K to a marathon, and see that. It was important for us to celebrate that."
That reality runs counter to pervasive stereotypes surrounding weight and fitness. While we might have once assumed that weight is a strong indicator of physical fitness, more and more studies has shown that to not be the case. 
In a 2010 paper, cardiologist C. Noel Bairey-Merz determined that BMI, or body mass index, was not a reliable predictor of physical health. In fact, Bailey-Merz found that women who were overweight and exercised were typically less likely to develop cardiovascular disease than women who were thin and not physically fit. TL;DR: Contrary to popular belief, weight and physical fitness have little to do with each other.
Schenk isn't the first plus-size woman to bust stereotypes about body image and physical fitness. Jessamyn Stanley, a 27-year-old yogi, became the poster girl for plus-size fitness models after Instagram photos of her practicing yoga went viral. "There are a lot of things you learn as a larger-bodied person practicing yoga that are valuable tools to other people — what to do with your stomach, what to do with your breasts," she told the Cut in May.
Plus-size model Tess Holliday has also been instrumental in reminding us that thinness and fitness aren't always synonymous, frequently posting workout photos and selfies on her Instagram. "I don't work out for you. I don't work out to drastically change my body," she wrote in the caption for one post, which garnered more than 42,00 likes. 
"I don't do it because people shamed me about how I look ... it clears my head, and gives me the stamina to keep up with my partner and child, and make it through 12 hour days of shooting. I do this for me."
Although Holliday and Stanley have attracted their fair share of negative comments, the response has largely been overwhelmingly positive. "You are such an inspiration and an absolutely beautiful human being inside and out," one woman recently commented on one of Holliday's workout selfies.
Schenk's Women's Running cover appears to have inspired a similar response, with women applauding the magazine for making the decision to feature a woman who actually looks like them on the cover:
It remains to be seen whether the photo will prompt a sea change in the fitness media industry and inspire other publications to feature plus-size models on their covers. But one thing is certainly clear: Girl looks happy, healthy  and fabulous. 
h/t Huffington Post