In One Tweet, JK Rowling Tells Mic We're Wrong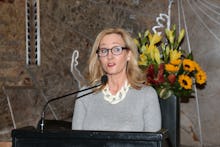 This past Tuesday, Mic posted a story calculating how much it would cost to attend Hogwarts, using previous estimates based on the price of tuition for British schools. Afterward, several readers responded on social media, telling us that tuition at Hogwarts is free. We acknowledged this possibility in the original piece, saying "some insist tuition at Hogwarts is free," but the books contain no verification from author J.K. Rowling.
Now, however, we have just that.
After a Twitter user expressed that our original piece had started a debate over tuition, Rowling responded to both her and Mic that, indeed, there is no tuition fee. 
"The Ministry of Magic covers the cost of all magical education!" she said. That makes us wonder: What are the taxes in the Wizarding World like? How much are the childless citizens paying for others' education?
Regardless, we are happily correcting our original number of $43,031 to just $1,031, the cost of supplies. We've sent our apologies to Rowling.
She was kind, gently reading us for our error. We promise to do better for you in the future, Jo.