President Obama is Joining Jon Stewart's 'The Daily Show' One Last Time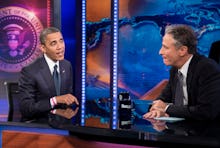 Several big-name guests have lined up to see Jon Stewart through his final weeks as host of Comedy Central's The Daily Show, but just one visitor's sendoff will come with a presidential handshake.
President Barack Obama is scheduled to visit the show on Tuesday, the commander in chief's seventh appearance on Stewart's stage since 2005 and his final visit before the 52-year-old host steps down from his 16-year post on August 6, when he'll hand over the reins to South African comedian Trevor Noah.
Obama has appeared on the show six times before, twice as president and four times as a U.S. senator. His banter with Stewart, while humorous, has often touched on serious political topics, from the president's signature on the Affordable Care Act to the 2012 terror attacks in Benghazi, Libya. In 2010, Stewart gave Obama the floor for an entire half-hour. 
During his upcoming The Daily Show interview, the president is expected to plug the White House's recent historic nuclear deal with Iran to Stewart's younger audience, according to Bloomberg. 
In many ways, Stewart has defined politics for a generation of young television viewers. The host's often funny and satirical approach to news has long resonated with audiences, many of whom see, like Stewart, the absurd ways in which some media outlets report on current events.
Stewart announced in February that he would be leaving the show, much to the dismay of his loyal fanbase. "It's not like I thought the show wasn't working any more, or that I didn't know how to do it. It was more, 'Yup, it's working. But I'm not getting the same satisfaction,'" Stewart said in April of his departure. "These things are cyclical. You have moments of dissatisfaction, and then you come out of it and it's OK. But the cycles become longer and maybe more entrenched, and that's when you realize, 'OK, I'm on the back side of it now.'"