'Trainwreck' Movie Proves Amy Schumer Is Having the Best 2015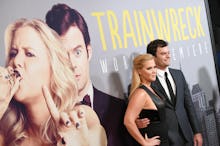 It's official: Nobody has lived more of a wild ride in the media this year than Amy Schumer. The 34-year-old comedian, who just a few years ago was essentially unheard of, is now rather hard to avoid. 
The standup comic's sketch comedy show on Comedy Central piled up eight Emmy nominations — including best actress in a comedy and for directing the viral sketch mocking 12 Angry Men — breaking the network's records for most nominations in a year. Now, the sexually charged and sometimes overtly offensive Schumer is the leading role in a blockbuster film she wrote herself, directed by Judd Apatow. 
Trainwreck opened in theaters Friday and has been received quite well by audiences so far. It has an average of 4 out of 5 rating from Rotten Tomatoes users.
Schumer has also been making headlines for her ridiculous antics discussed on late night television, including a recent interview on the Tonight Show With Jimmy Fallon where she explained in detail how she stole Katie Couric's cellphone at an event to sext the Yahoo Global News anchor's husband. 
Her show on Comedy Central is already picked up for a fourth season, and ratings have been climbing for the politically incorrect show. 
Hollywood seems to be behind Schumer's new flick as well, posting their thoughts and support to social media.
And if you're seeing the movie yourself, Schumer is encouraging you to send her a selfie:
Schumer's role in Hollywood is important: She stands for feminism, gender equality and being proud of your skin, even if you're not a size zero. Her burgeoning power and prominence in our culture can be perfectly summarized by Apatow. He tells Vox:
"I think there's a lot of things that women should be very upset about, and it's great to have a raucously hysterical person to say, "This is bullshit." Unlike other people, there's no bitterness in it. She never loses her sense of humor. The comedy always comes first, but she's making points that really need to be made. It's hard to do great comedy about rape culture, but someone should do it. It takes a genius to engage people to say, "Isn't this crazy that we don't care more about this?" She comes at it, and she's attacked so many subjects that have been neglected. The reason why she can do it is because she's incredibly smart, she has great positions, she is insanely funny, and she can do it all at the same time."