Oregon Just Became the Second State to Offer Free Community College for Everyone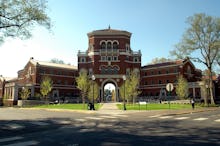 On Friday, Oregon's Democratic Gov. Kate Brown signed a bill into law that provide access to free community college for all state residents after high school. 
"Oregonians can now afford to dream big," Brown said in a press release. "Today, we fling wide open the doors of opportunity by expanding access to post-secondary education, the precursor to a better life."
When implemented, the plan expects to serve between 4,000 and 6,000 students in its first year. To fund the initiative, the legislature has set aside the comparatively small sum of $10 million, raising some concerns that funds will not be sufficient to truly offer students free education, the Oregonian reported.  
The move makes Oregon the second state in the nation to implement a universal community college plan, after Tennessee's pioneering program. Perhaps no one was happier about the law than President Barack Obama, who tweeted his approval Friday.
The president made headlines in January when he called for universal access to community college ahead of his State of the Union address. 
"Tennessee, a state with Republican leadership, and Chicago, a city with Democratic leadership, are showing that free community college is possible," the president said in the speech. "I want to spread that idea all across America, so that two years of college becomes as free and universal in America as high school is today."
Under the president's more ambitious federal plan — which has gone nowhere since he announced it earlier this year — 9 million students would be covered at a cost of roughly $60 billion over the next decade. The program would only be open to students with a GPA of 2.5 or better who could complete their programs in a timely manner. 
Despite near-total opposition from Republican lawmakers, who ostensibly represent big business, a number of analysts in the for-profit higher education sector believe they too could benefit from the president's plan. A Wells Fargo report shared with Mic predicted that institutional investors in for-profit colleges would see attendance spike as more community college entrants would grow the overall pie for everyone. According to the report:
To the extent that the new policy encourages junior college attendance, four-year [for-profit schools] ... are likely to benefit as institutionally they are the most consistent and generous in their acceptance of CC transfer credits; and students transferring with two years of credits are the most persistent and thus attractive. Two-year FP vocational schools already compete with lower-priced CCs on quality and substance (better equipment, smaller classes, higher customer service, better job placement effort,) but to the extent the initiative encourages broader enrollment, capacity constraints at CCs will likely push students to more-convenient and flexible FP programs. 
With federal action unlikely, it will be increasingly up to states like Oregon and Tennessee to show the way forward.