Donald Trump's Latest Vile Attack Is Against John McCain — And All Prisoners of War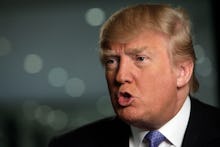 Republican presidential candidate and billionaire Donald Trump amped up his ugly rhetoric yet again this Saturday, smearing prisoner of war, torture victim and Senator John McCain's (R-Ariz.) service record by essentially accusing the veteran of cowardice for being captured during the Vietnam War.
McCain, who was shot down in Vietnam in 1967 and spent over five years languishing in a POW camp waiting to be released, recently spoke to the media, calling Trump's meteoric rise in the polls "very bad" and "very hurtful." The senator said Trump "fired up the crazies" with remarks calling undocumented Mexican immigrants "rapists," among other epithets and conspiracy theories.
So on Saturday, while addressing the Family Leadership Summit in Ames, Iowa, Trump shot back by telling the audience, "He's a war hero because he was captured. I like people who weren't captured."
Trump is currently refusing to apologize, says Bloomberg Politics' Sahil Kapur:
It's true that some dispute just how much of McCain's POW story is really heroic, or whether his well-known recklessness played a role in how the senator got shot down. But few mainstream political figures have ever seriously suggested these concerns invalidated either McCain's honor as a soldier or the price he paid for proudly donning a U.S. military uniform. Trump was also clearly trying to associate McCain's service record to that of Bowe Bergdahl, a U.S. soldier captured by the Taliban under disputed circumstances in 2009 — and whom Trump has called a "traitor" and suggested should have been left behind in Afghanistan. 
More broadly, it's also an attack on virtually all prisoners of war, who Trump basically accused of gutlessness for not dying in combat. Trump, for the record, has never served in the military.
These kinds of bitter attacks are increasingly playing a central role in Trump's campaign, probably because this kind of angry rhetoric plays well to the conservative base and has paid off major dividends in the polls. (Trump is now more popular among Republicans than Hillary Clinton is among Democrats.)
The incendiary rhetoric, however, has ensured that Trump is burning through virtually all potential political allies rapidly and earning the condemnation of other candidates:
Sooner or later, he'll probably flare out — but as the events of the past few weeks have shown, not before leaving a long and ugly trail of scorched earth in his wake for the other Republican candidates to clean up.