This Terrifying Video Shows the Moment a Pro Surfer Was Attacked by a Shark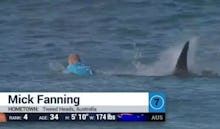 2015's J-Bay Open, a South African surfing competition, has been canceled after a competitor narrowly fended off a shark attack in the middle of his set.
Australian finalist Mick Fanning was in the water when he apparently attracted the attention of some kind of shark, which apparently then tried to bite him. The attack was captured in a clip by the World Surfing League that has been circulating:
That's a big fin:
The good news is that Fanning is unharmed. Unfortunately, the rest of the competition had to be scrapped due to the close call.
"All of the sudden, I just had this instinct that something was behind me," Fanning told the WSL, according to an interview on ESPN's website. "And then all of the sudden, I felt like I started getting pulled under water. Then the [shark] came up, and I was on my board and it was like right there, and I saw the whole thing thrashing around."
"I just can't believe it. I'm just tripping. ... To walk away from that, I'm just so stoked."
"We are incredibly grateful that no one was seriously injured today," said the WSL in an additional statement. "Mick's composure and quick acting in the face of a terrifying situation was nothing short of heroic and the rapid response of our Water Safety personnel was commendable — they are truly world class at what they do."
In a subsequent interview, Fanning seemed shaken but otherwise fine after the encounter.
The less adventurous of us need not worry: The Los Angeles Times reports shark attacks are extremely rare, with only three deaths by shark reported worldwide in 2014, compared to the 26-73 million sharks humans wipe out every year.