The Reactions to the Empire State Building's Color Show Islamophobia at its Worst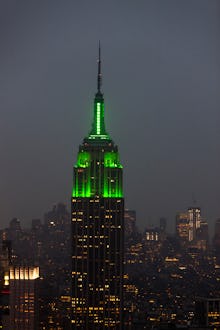 On July 17, the Empire State Building lit up in bright green for Eid al-Fitr, the Muslim holiday that marks the end of the monthlong fast of Ramadan. The commemoration was not made to encourage the conversion of Americans to Islam, disrespect the five U.S. service members shot and killed in Chattanooga, Tennessee, last week by Mohammad Youssuf Abdulazeez — or honor his actions.
It was simply to celebrate a major holiday observed by hundreds of millions of people across the globe.
But for some people who have a real problem with Islam, the green lighting wasn't an innocuous call for mutual respect and coexistence between people of all creeds and races. It was an affront to their bigoted worldview, as shown en masse on Twitter:
In the linked article, a writer posits that "Ramadan is the most violent month of the year in the Islamic world, because Ramadan is the month in which Muslims renew their devotion to Allah, and violent jihad is a supreme act of devotion to Allah." He is apparently referring to the Islamic State group's calls for attacks during Ramadan, which Quartz explains are actually highly unusual among even radical jihadist groups.
While it's perhaps to be expected that Islamophobia has a significant venue on Twitter, anti-Muslim beliefs also seem to be on the rise throughout the country. Polling by the Arab American Institute has found declining percentages of Americans have favorable attitudes towards Arabs or Muslims, the latter of whom declined from 36% favorability in 2010 to 27% in 2014. The polling also indicates that large numbers of Americans continue to report not having enough knowledge of Arab or Muslim history or society.
Unfortunately, some uninformed people are also apparently enraged that the Empire State Building extended followers of Islam the same courtesy it does other religions like Judaism and Christianity. It says more about them than it does the estimated five to 12 million Muslims in the United States.
July 20, 2015, 12:02 a.m.: This article has been updated.