Here's What Happened When #BlackLivesMatter Activists Confronted Bernie Sanders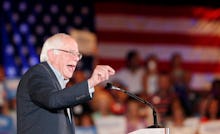 Protesters against racism and police violence disrupted Democratic presidential primary speakers at the Netroots Nation 2015 conference in Phoenix, Arizona, on Saturday, demanding that candidates "say her name" in response to the death of 28-year-old black woman Sandra Bland in a Texas police cell.
This led to former Maryland Gov. Martin O'Malley walking off stage after he told the crowd that "all lives matter." The crowd also heckled self-declared socialist and Vermont Sen. Bernie Sanders, whose effort to relay his economic agenda was thrown off by protesters accusing him of downplaying civil rights. Former Secretary of State Hillary Clinton, however, was not present.
While, in subsequent Q&As, both candidates addressed the civil-rights complaints being directed at them, Sanders was criticized in particular for telling the crowd, "If you don't want me to be here, that's okay."
"Black people are dying in this country because we have a criminal justice system which is out of control, a system in which over 50% of young African-American kids are unemployed," Sanders finally responded, according to KESQ. "It is estimated that a black baby born today has a one in four chance of ending up in the criminal justice system."
But critics continued today to hammer on what they see as Sanders' blind spot on racism and civil rights, making fun of the idea that his economic agenda cleared him of his white privilege with the hashtag #BernieSoBlack on Twitter. While some posts were clearly serious, others were more lighthearted.
Some endorsed conspiracy theories, suggesting that the viral campaign was the work of political opponents:
Other Twitter users pointed out that Sanders does have a strong record on civil rights, including getting personally involved in activism.
On Sunday, Sanders' campaign released a statement that, admittedly, seemed just a little off (though just in its exact phrasing):
Sanders is unlikely to be seriously damaged by the criticism: He held a rally the same evening which attracted an astonishing 11,347 people, according to his campaign. The senator's defenders will doubtlessly point out the candidate's strong pro-worker, anti-inequality record and platform as evidence that Sanders is really committed to improving the lives of economic minorities.
But writing over at The Daily Banter, correspondent Tommy Christopher highlighted the very real challenges facing the Sanders campaign's efforts at black outreach, noting a recent interview in which Sanders said the black community "may not understand" his civil-rights efforts as an example of "an approach that is favored by politicians who take minority votes for granted."
h/t The Daily Dot