After Years of Drought, California Finally Had a "Super Historic" Rainfall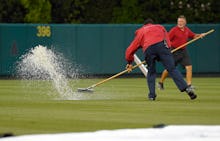 For years, California has been suffering a drought that's led to water restrictions and an official state emergency. But on Saturday and Sunday, the weather gods sent Tropical Cyclone Dolores with a deluge of rain over central and southern California that's being labelled as "super historic." Ironically, the relief came during what is historically the driest month of the year.
However, while the precipitation may have seemed welcome, the rainfall wreaked havoc across large swaths of the state, giving it a whole new set of problems. Parts of a freeway bridge collapsed, there were flash flood warnings and more than 10,000 homes were without power.
The Los Angeles Angels baseball team were rained out of a home game, which hadn't happened in 20 years.
The weekend weather broke both San Diego and Los Angeles' record rainfall for the whole of July. Seventy miles of beach were closed, and the rain helped quell the majority of a forest fire, which firefighters had been trying to contain.
Some on social media were quick to liken the dramatic and unusual events of the weekend to the apocalypse, and many warned the rainfall was a likely sign of impending doom.
Of course, one tropical storm, no matter how much rain it brings, will not end a year-long historic drought. In fact, as the damage shows, the problems may only be compounded. 
And, most importantly, Tom Selleck's lawn is probably looking even lusher than before.