"Trainwreck" Is an Amazing Rom-Com, But the Romance Isn't the Most Important Part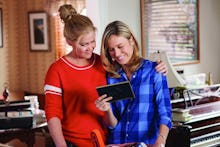 "It's a love letter to my little sister," Amy Schumer explained on Instagram about her new film, Trainwreck, which was released on July 17.
Yes, you heard that right: a romantic comedy about siblings. 
Those who have closely followed Schumer's meteoric rise over the past few years will have noticed that accompanying Schumer at every step is her little sister, Kim Caramele. Caramele is plastered over Schumer's Instagram. She's spearheading Schumer's magazine interviews, joining her on TV and serving as a producer both on Inside Amy Schumer and Trainwreck. 
If Schumer loosely based her new movie on her own life, it makes sense that by the end of the film, the most unexpectedly important relationship is not with romantic interest Aaron (played by Bill Hader), but with her little sister Kim (played by Brie Larson). That's because, as Schumer points out, having a sister is one of the most difficult relationships to navigate, but also the most rewarding. 
The "safe one" vs. "the trainwreck:" In the film, party girl Amy's aversion to relationships can be directly traced back to her father, who at the beginning of the film delivers the news of his divorce from their mother with the explanation, "Monogamy isn't realistic." 
The two sisters, Amy and Kim, heed his advice and run with it in opposite directions: Amy's on a carousel of one-night stands, while Kim marries a kind, if boring, man and becomes a Long Island stepmom at a very young age. In their personal lives, Kim is the "stable" one, while Amy's single lady life is, well, seemingly a trainwreck.
Both, in fact, are "normal": Amy is part of the 50.2% of American adults who are single, while Kim falls in line with the national norm for both marriage and kids. But that reality still comes with conflict — one sister settles for a traditional white picket fence life, while the other mocks it. 
In other words, it's a completely modern picture of sisterhood.
That reality was pulled straight from Schumer's life. To Schumer, the film is about "the issues of me feeling a little abandoned because [my sister] got married and all these things that I'm not proud of that I didn't realize until I was writing the movie," she told NPR's Fresh Air. "From her point of view it's like, 'This is what people do. They meet someone. They fall in love. We can all be a family.' It was very difficult." 
The most enduring relationship is one without judgment: While Trainwreck has been marketed as a rom-com, the movie is really about reconciling the different lifestyles we and our loved ones choose. That challenge is especially acute for women, whose lifestyle choices are often pitted against each other (the Charlotte vs. the Samantha).
But Trainwreck suggests that there's no right answer. As much as our culture attempts to dictate how women should act in bed or in relationships, there's no one way to be a woman falling in love. 
Not judging someone for their "bad" choices is difficult to do. But with their deep shared histories, siblings have a head start. 
Schumer made the film in part to thank her sister for standing by her side, even if she didn't always approve of her love life. "I've been making my sister watch me hurt myself for so long," Schumer told NPR's Fresh Air. "That must have been so hard for her, so I just wanted to apologize and let her know that things were going to change."
Regardless of who we're dating (even if it is Bill Hader), our most constant and enduring relationships are with our siblings. After all, they're the ones who stick around our whole lives — even when we are complete trainwrecks. And hopefully, by knowing us deeply and supporting us unwaveringly and sans judgment, they make us better.
"She's the funniest person I know," Schumer told NPR's Fresh Air of her sister. "She's always made everything I've done better."