Watch Amy Schumer Deliver a Hilarious Takedown of Hollywood's Expectations of Women's Size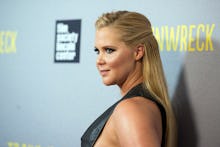 Amy Schumer may have been deemed "hot enough" to be on TV in a fictional courtroom, but movies are a different matter. In a lacerating talk show segment, she explains exactly how ridiculous the big-screen expectations are.
Schumer appeared on Live With Kelly and Michael as a press tour stop for her new movie Trainwreck last week. During the interview, she's asked about having to slim down for the movie, with studio executives at Universal Pictures going so far as to hire her a trainer. Their initial interaction was, according to Schumer, quite critical.
The actress, comedian and writer was quickly told the key to slimming down in Hollywood: Don't eat anything. She was concerned.
So, thanks to her trainer, she got a new food plan for the film. It was remarkably lighter than she was used to eating.
In the most acid-laced part of the bit, after skewering Hollywood and its unrealistic expectations for women's weight, Schumer announces, with false pride, that she lost three pounds for the role. Doing their part to accidentally make the satire even more biting, the Live With Kelly and Michael audience bursts into applause.
This kind of humor is what Schumer does best: cutting and quick, but subtle enough that her audience can find themselves on the receiving end of the jokes without even realizing it. It's what makes her segments on Inside Amy Schumer such viral hits, and it's likely what took Trainwreck to $30 million at the box office this weekend. She's delivering some bitter medicine, but it's wrapped up in a sugary package we all can enjoy.
Watch the full clip below.