This Is How Ice Cream Is Uniting Iraq, Iran and the United States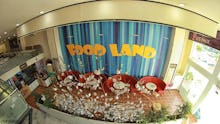 To say Iran, Iraq and the United States have a complicated relationship would be putting it lightly. 
After being at war over oil-rich territory for the better part of the 1980s, Iran and Iraq, both Shiite countries, have more recently entered a precarious relationship battling Sunni Islamic State rebels — though this has left some suspicious of Iran's endgame. Most Iraqis know the United States for its 2003 invasion, which unleashed more than a decade of political instability. As for America and Iran? Before their historic nuclear deal, the U.S. led the charge on Iran's economic isolation. Put the three nations together, and things get even more complicated. 
But one unexpected factor may be helping to bridge those gaps, and doing it in the coolest way possible: ice cream.
Located in Jadriyah, one of the more affluent neighborhoods in Baghdad, Iraq, the food court Food Land houses both Iranian ice cream company Ice Pack and American frozen yogurt company Tutti Frutti. What may seem like a simple business arrangement is actually a symbolic achievement — three countries, whose governments have often been at odds, are working together in harmony on, of all things, dessert.
Tasteful cooperation: The three companies were willing to work together from the start. In fact, the only real hurdles involved were dealing with American regulations and the logistics of getting an American company up and running in Iraq, Hadi al-Haidary, general manager of Rawnaq Aldur, the company that owns Food Land, told Mic through an employee who translated, Abbas Housseini.
Al-Haidary said there were extensive problems with visas and security — the negotiations between U.S.-operated Tutti Frutti and Rawnaq Aldur ultimately culminated in a 22-page contract. Americans designated to train local employees to use equipment and run the company on the ground could not get cleared for visas, so in the end, Iraqi employees were sent to America.
"At the beginning, it was hard to work with an Iranian company because it was hard to get locals to support it. But then [Iraqis] were very happy to deal with a U.S. company because we think American companies provide more quality," Al-Haidary explained. 
But the food court collaboration did not come without tension. Al-Haidary suggested Iraqis were also suspicious of Iran because of their bad public image in recent years, both internationally and domestically, and due to the difficult relationship between the U.S. and Iran.
As for the company's decision to work with these two brands, representatives from Food Land said the product offered was paramount. "First thing is about quality. As a company, for Rawnaq Aldur, it doesn't matter what countries we deal with. We dealt with Iran because transportation was easy at first," al-Haidary explained. "And then [we worked] with America because they provide good quality."
The pushback against Ice Pack. The opening of this Ice Pack is markedly different from a previous effort in 2011, when a store branch opened near the U.S. embassy in Baghdad's Green Zone, causing a small furor. Iraqis not want to buy Iranian products, and the business was an uncomfortable symbol for the embassy. 
"It's a vivid reminder of the shifting balance of power here as the U.S. military winds down its presence and prepares to go home," the Washington Post wrote in 2010, in anticipation of Ice Pack's opening.
However, irrespective of Ice Pack's initially hostile reception, the company has found a way to thrive, and currently operate 22 stores in Iraq. American company Tutti Frutti was not deterred by working with Ice Pack, either. Rawnaq Aldur, Ice Pack's Iraqi representative, helped Tutti Frutti establish an outpost in Iraq; the American company was content to exist as a sister store to Iran's ice cream shop.
Mic attempted to contact Tutti Frutti regarding their collaboration, but they were unable to respond by the time of publication.
As Iraq desperately struggles to maintain its unity — Kurdish rebels and an Islamic State insurgency threaten to tear the country apart — economic and professional collaboration between countries with which Iraq has such strained relations is not common, making this trifecta all the more notable. Economic enterprise has been known to circumvent political tension in the past. India and China offer a salient example as "economic imperatives demand that collaboration between the two giants help mitigate historical mistrust and future rivalry," CNN wrote.
In other words, frozen yogurt-ice cream alliances can only make relations sweeter. 
h/t Al Jazeera