Here's Everything You Missed at Pemberton Music Festival 2015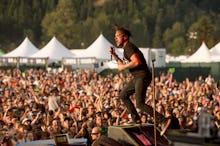 Pemberton Music Festival rocked on in Pemberton, British Columbia, over the weekend, even as the nearby Elaho wildfire engulfed over 12,000 hectacres of land close to campgrounds. 
Nearly 30,000 campers danced the weekend away, proving Pemberton was one of the best tickets of the summer. Audiences camping throughout the weekend documented just how weird things got:
One attendee told the Province the festival was, "ultimately planned out for music over the four nights. Thursday light and easy, Friday way hard, Saturday more chill and Sunday the main headliner Kendrick [Lamar]."
The Province reports the festival was a smash, with fantastic appearances from String Cheese Incident, STS9, and Tiesto. Lamar, who closed the event on Sunday night, showed up for the gig almost an hour late. Still, the rapper managed to bring the house down with several of his hits from his album Good Kid, M.A.A.D. City.
Exclaim's Alex Hudson reports: 
"Introducing himself as coming from "Compton, Cali-mother fucking-fornia," Kendrick's raucus [sic] energy whipped the crowd into a frenzy, and fans quickly forgave his lateness and feverishly obeyed his commands to lift their hands in the air. Most of the set list was drawn from Good Kid, but the audience was similarly enthralled by renditions of A$AP Rocky's "Fuckin' Problems" and Schoolboy Q's "Collard Greens" (the latter of which featured a guest appearance from the bucket-hatted MC himself)."
Lamar has been having quite the year, with his album To Pimp A Butterfly being widely applauded as a seminal release in modern hip-hop, and his headlining act at Pemberton just added to his explosive year in music. 
On another stage, long-running rock band Jane's Addiction managed to keep things exciting, adding some surprise elements to their performance. Straight reports the band had an eye-catching show, saying:
"Random weirdness during their set kept things interesting. Specifically two dominatrix-looking types who made sporadic stage appearances to molest each other while wielding what appeared to be lightsabers or possibly large anal probes. And then during the show's final number "Stop!", two Suicide Girl-types were suspended 20-feet in the air by hooks that went through piercings on their backs. 
Check out the full recap video of days one and two at the Pemberton Music Festival below, made by the the event's host, HUKA Entertainment.