11 Years Later, 'The Incredibles' Is Getting the Sequel It Deserves in 'The Incredibles 2'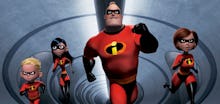 Pixar fans are on the edge of their seats waiting for the sequel to the much-loved animated movie The Incredibles, which centers on a family of superheroes forced to live like civilians until a madman goads them out of hiding. Eleven years after the first installment of the film hit theaters, the sequel is definitely happening, original director Brad Bird has confirmed.
Filmgoers are finally getting some clues about what to expect from The Incredibles 2, rumored for a possible 2017 release, according to CrossMap. It's believed that the movie will pick up more than a decade from where the first film left off, meaning the Parr family's youngest member, Jack-Jack, will be a teenager. The delightful infant, whose super powers were unknown at first, turned out to be perhaps the most powerful of the incredible clan.
CrossMap reports, "Someone will try to manipulate Jack-Jack and he's also having a hard time controlling his powers." Some have speculated whether Jack-Jack could become the villain in the next film, but that hasn't been verified.
News of an Incredibles sequel first broke in March 2014, when Walt Disney Company CEO Bob Iger said a second installment was in the works. Rumors about what direction the sequel could take have swirled ever since.
One hope is the return of Lucius Best, known best by his superhero name Frozone, voiced by actor Samuel L. Jackson. "Everytime I run into Brad [Bird,] he always tells me Frozone is part of what's going on [in the sequel], so I have to believe that," Jackson recently said, according to Movie News Guide. "I guess they could be the Incredibles without Frozone, but I think Frozone would be a wonderful addition to what's already there."
If the second film is anything like the first, it's bound to be an instant hit. The Incredibles was released in 2004 as Pixar's sixth animated film. The movie grossed more than $260 million in total domestic box office sales and was met with glowing reviews. Audiences of all ages connected with the action comedy for its blend of slapstick humor, warmth and wit. Critics found little to lament about the film, either.
"I had a lot of ideas for the original Incredibles that I didn't get a chance to use, that I like," Bird said in May. "I have ideas that I wanted to pursue a little bit, and there wasn't enough time in Incredibles. There are new ideas I have, and I think there are enough of those together to make an interesting movie."
Here are some memorable moments from the first film to wet moviegoers' appetites: