9 Inspiring Women Leaders in Tech Share Career Advice Everyone Needs to Hear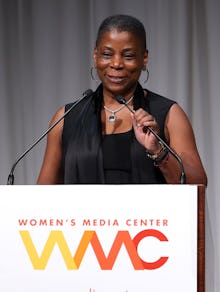 It's no secret that women who break into the tech industry don't have the easiest path. They're underrepresented, often treated differently than their male peers and receive pushback if they speak up about the issues they face.  
But on the flip side of the coin, some of the most powerful people in the industry also happen to be women. Take Marissa Mayer, Susan Wojcicki and Ursula Burns, for instance — they're all CEOs of some of the most influential tech companies in the world: Yahoo, YouTube and Xerox.
No matter your industry — whether it's tech, finance, business or something else — challenges will be there to meet you along the way. Who better than to inspire you with advice than an immensely talented group of women who made it big in one of the most difficult industries for women?
Below, each of them spill the wisdom on how to make it work.
1. Erin Teague on using your uniqueness as a weapon
As the only black woman in her program — and graduating class — at the University of Michigan, Teague, Yahoo's Director of Product Management, has seen her fair share of challenges. But she's also used it to her advantage, and she advises that you remember what you and you alone can bring to the table.
"Recognize and embrace your uniqueness," she told Refinery29. "I don't think the ratios are going to change anytime soon. But, I don't think it has to be a disadvantage. Being a black woman, being a woman in general, on a team of all men, means that you are going to have a unique voice. It's important to embrace that."
2. Sheryl Sandberg on managing the shape and path of your career
Sandberg's book Lean In became a go-to text after its publication, and for good reason. Much of its advice is spot-on, particularly when it comes to figuring out your career path. 
"There's only one way to get to the top of a ladder, but there are many ways to get to the top of a jungle gym," the Facebook COO writes, alluding to a piece of advice — think of your career as a jungle gym, not a ladder — from Fortune magazine's Patricia Sellers. "The ability to forge a unique path with occasional dips, detours and even dead ends presents a better chance for fulfillment," Sandberg adds.  
3. Ellen Pao on fighting for change
Pao, a Harvard Law and Business School grad who most recently found herself at the center of and a victim of a massive meltdown on Reddit, is familiar with challenges in the workplace. In March, she lost a very public gender discrimination lawsuit against her former employer, Kleiner Perkins Caufield & Byers. 
Following the loss, she nonetheless found time to share some advice for young women in the professional world. "If we do not share our stories and shine a light on inequities, things will not change," she tweeted.
4. Missy Young on making your voice heard — loudly
Young is the executive vice president of colocation at Switch, a data company that counts seven women among its 14 top executives. In an interview with Vegas Inc, she recounted the struggles of her mother's generation.
After finding out her mother, who was a vice president at a bank, made $50,000 a year less than her male colleagues, the 12-year-old Young wouldn't accept it. "That's not fair," she said. "You should make a lot of noise about it."
5. Susan Wojcicki on not waiting for the perfect opportunity to roll around
In her 2014 commencement speech to Johns Hopkins University graduates, she said, "Life doesn't always present you with the perfect opportunity at the perfect time. Opportunities come when you least expect them, or when you're not ready for them. Rarely are opportunities presented to you in the perfect way, in a nice little box with a yellow bow on top. ... Opportunities, the good ones, they're messy and confusing and hard to recognize. They're risky. They challenge you."
She would know. As Google's 16th employee, she let co-founders Larry Page and Sergey Brin take up residence in her garage to plant the seeds of what would become one of the most influential tech companies in history. Now, as the CEO of YouTube, she oversees the biggest video platform in the world.
6. Ginni Rometty on having the self-confidence to let yourself grow
In 2011, Rometty became the first female CEO of IBM, the company she joined in 1981 as a systems engineer. In a 2011 interview with Fortune's Jessi Hempel, she emphasized the value, both personally and professionally, of risk taking.
"People are their first worst critic, and it stops them from getting another experience because I could be better, if I was just ready yet, if I had one more thing," she said. "And that's not it ... You always have to do something that puts you in a zone you don't know," she added. "Someone once told me growth and comfort do not coexist. And I think it's a really good thing to remember."
7. Privahini Bradoo on coming in first
Bradoo is the founder and CEO of Blue Oak, a startup that's trying to solve the problem of electronic waste. Her Ph.D. in neuroscience may be a tad unusual for the tech field, but her advice on making it as a woman isn't.
"I never believed I could or couldn't do something because I was a woman," she told Refinery29. "I remember something my mom always told me: 'You are the best at whatever you do.' ... Focus on being the best that you possibly can be. All the people I've worked with, they're looking for people who are the best at what they do."
8. Marissa Mayer on knowing how to set the right pace
"I have a theory that burnout is about resentment," the Yahoo CEO wrote for Bloomberg in 2012. "And you beat it by knowing what it is you're giving up that makes you resentful."
As much as we'd love to be, we can't be superhuman all the time — the smartest thing we can do is recognize that and use it to our advantage.
9. Ursula Burns on "looking the part"
Burns, the CEO of Xerox, grew up on the Lower East Side of Manhattan and started at the company she now heads as an intern in 1980. In a 2012 interview with NPR, she spoke about the challenges you face when you don't look like a "typical" executive.
"As you move up — as you engage more and more people in the company and take on broader roles — this idea of quote-unquote 'looking the part' becomes more and more of a challenge when you don't look the part," she said. "But there's nothing I can do, or wanted to do, about being a black female — I kind of like both of those things. So at the end of the day, the people who were around me had to do a little bit more adjusting than I did."