The GOP Is Trying to Exile Donald Trump — But He's Not Going Anywhere Anytime Soon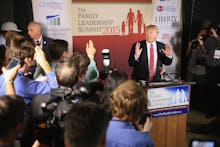 What he failed to manage during weeks of unabashed slander against Mexicans and Hispanic immigrants, Donald Trump accomplished with a few choice words about Sen. John McCain (R-Ariz.) during an interview at a candidates' forum Saturday in Iowa. By questioning McCain's standing as a "war hero," saying he preferred "people who weren't captured," Trump earned a nearly unanimous public rebuke from leading Republicans.
The recipient of four draft deferments, Trump spent the late 1960s and early 1970s swanning around New York City while McCain, then a Navy pilot, was being held in captivity and tortured for five-and-a-half years in a North Vietnamese prison camp after his plane was shot down over Hanoi. Trump's comments set about a frenzy of righteous denunciations, including calls for the party to disqualify him from its primary contest. 
Despite the backlash, Trump isn't likely to fade into the shadows anytime soon. A new ABC News/Washington Post poll out Monday showed him leading the Republican field nationally (although his numbers dropped following his controversial McCain comments). And thanks to an obscure part of federal elections law, he will almost certainly be front and center onstage at the GOP's first presidential debate on Aug. 6.
The backlash: The leading GOP presidential contenders, many of whom had been careful not to criticize Trump too harshly for fear of alienating his considerable following, quickly circled the wagons over the weekend and began what felt like a cathartic onslaught. The Republican National Committee, whose chairman had privately asked Trump to "tone down" his anti-immigrant rhetoric, now publicly declared, "There is no place in our party or our country for comments that disparage those who have served honorably."
For the candidates currently trailing Trump in the polls — and that's just about all of them — his words Saturday also presented a unique opportunity. There are few issues in a race contested as tightly as this one that can elicit such a uniform response. Every GOP candidate except Sen. Ted Cruz (R-Texas) and former Arkansas Gov. Mike Huckabee denounced Trump's comments.
Unfortunately for this growing coalition, federal regulations make it nearly impossible for a political party to unilaterally bar a candidate from a debate after it has set out its guidelines for inclusion. 
Here's why: The Federal Election Committee does not set the particular rules for the debates, but it does have a handful of hard and fast guidelines. The first states that a broadcaster like FOX, called a "staging organization," is allowed to play host provided it "does not structure the debates to promote or advance one candidate over another."
Additionally, the FEC says "staging organization(s) must use pre-established objective criteria to determine which candidates may participate in a debate." In the case of the coming debate, the benchmark for inclusion was set two months ago. Under those parameters, the participants will be decided not by kingmakers but number crunchers. In a field of 16 (Ohio Gov. John Kasich is expected to formally enter the race on Tuesday), the 10 candidates with the highest average scores across five national polls released closest to Aug. 6 will be guaranteed entry.
Republicans, like RNC communications director Sean Spicer, might not like it. But, as he tweets below, the law is plain:
This means that no matter what Trump says in the runup, the Republican Party and FOX must abide by the terms of that original agreement. Much to the chagrin of establishment Republicans, as long as Trump is running among the top 10 in the most recent polls, Trump can do what he wants without fear of being swept off the stage or out of an increasingly tense primary field.