Amandla Stenberg Just Released a New EP — And It's Absolutely Beautiful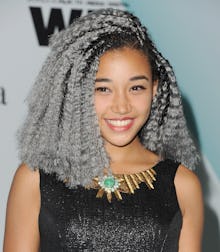 It seems there is nothing Amandla Stenberg cannot do. Since playing the beloved Rue in The Hunger Games, she's become an Internet sensation, schooling pop culture about the seriousness of cultural appropriation and the media's double standards surrounding race. She's written young adult fiction and appeared in Rookie. And Monday, she gave the world one more reason to love her. 
With a tweet, Stenberg shared a self-titled debut EP of folk songs from her group, Honeywater. The announcement had already racked up over a thousand favorites in its first hour in the Twitterverse. And for good reason: The songs are absolutely beautiful.
Four tracks of folk gold. Written by Zander Hawley, whom Stenberg describes as her "best friend," Honeywater's songs are simple and serene. Sternberg weaves lightly through the tracks, adding soft harmonies to the hooks and violin to the occasional bridge.
"Honeywater has given me the opportunity to grow as a violinist and vocalist, to push myself and be adventurous," she tweeted of the release earlier today. "I hope you enjoy."
It's a new frontier for Stenberg. She's built her following off the strength of her cultural critique, pressing forward even as she's fielded her own criticism for calling others out. Earlier this month, Stenberg rebuked Kylie Jenner for sporting cornrows in an Instagram photo but not speaking out for black issues in the same way.
Her comment has since been deleted, but Stenberg replaced it with a longer post on her own Instagram, describing the danger this kind of cultural appropriation poses to culturally invisible black women.
Honeywater doesn't deal with topics as dense or with a voice anywhere near as unflinching. But it shows that Stenberg's talents show no bounds. She can hit hard when she needs to and float like a butterfly across her strings in her downtime. Listen to the full EP on Apple Music here, and witness a young activist exploring the full range of her talents.